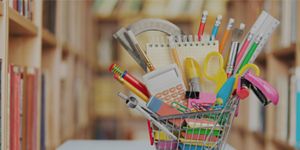 Back to School Shopping Tips
Pencils, textbooks, backpacks - whether your child is heading into high school, college or university, back to school expenses can add up quickly. Maximize savings and minimize needless spending by following these tips:
 
Take stock of what you already have. Chances are there is still some stationery left over from years past that is as good as new. Roundup leftovers to see what you can leave off the shopping list for this year. 
Get your child involved. Everyone enjoys using things they like - maybe your child prefers notebooks to looseleaf paper, and maybe they are still happy with last years' binders. Getting them involved early is also a great opportunity to let them work for any special or expensive items they desire by doing chores or picking up a part-time summer job. 
Just as you can score Halloween candy at 80% off on the first day of November, you will be rewarded with steep discounts if you wait past the first week of school to do your shopping. There is no need to have absolutely everything ready for the first bell. 
Going off to university is an exciting and expensive time. Most university-aged children have had some experience earning money and understand the value of a dollar, so it should not be too hard to set a reasonable budget and stay within it. 
If your child is moving out for school, it may be tempting to buy every single thing they may possibly need right away. A better approach is to stick with the basics - bedding, shower supplies, an area rug and minimal furniture - and let them live in their space for a while before figuring out what else is actually needed. 
Do not be afraid to shop second-hand for things like furniture, utensils and more. University student's living arrangements may change often and quickly and there is no need for a brand new five-piece living room set for someone who will likely spend the better part of the next four years between their bed and the library!