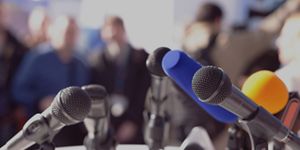 Our media commitment
Journalists seeking interviews or information for stories, articles or topic ideas are welcome to contact us for assistance.
Media relations:
Priscilla Wong
Public Relations Specialist
Direct: 365-873-6780
Mobile: 647-208-7523
Aviva Canada quick facts:
Employees: more than 4,000
Customers: more than 2.8 million
Head Office: 10 Aviva Way Suite 100, Markham, Ontario L6G 0G1
CEO: Colm Holmes
Parent Company: Aviva plc
Aviva's international media contacts:
Visit www.aviva.com/media for our international media centre.
Recent press releases
May 14, 2018 - Distracted driving-related accidents rise dramatically, Aviva Canada claims data shows
In support of National Road Safety Week, Aviva Canada urges Canadians to start "Undistracted Driving"
May 14, 2018 - POLL: Newfoundland and Labrador drivers demand more choice, relief from rising auto insurance rates 
May 3, 2018 - Aviva broadens its product suite with launch of Group Critical Illness insurance

Reinforcing its commitment to grow its Accident and Health portfolio 
April 16, 2018 - Aviva Canada readies team as extreme weather shifts from wind to rain, Claims hotline available to assist customers 24/7

Offering tips to prevent damage and keep customers safe during extreme weather
April 12, 2018 - Aviva Canada first to embed earthquake coverage in all policies for British Columbians

Innovative new offering will give Aviva customers additional coverage and peace of mind at no additional cost
April 5, 2018 -  Aviva Canada investigation = consumer protection
A lesson for law firms, legal representatives, healthcare clinics, healthcare professionals 
March 29, 2018 - Aviva Canada welcomes a report on the deteriorating state of auto insurance in NL 
Consumers are losing in the current market 
March 12, 2018 - Aviva fraud investigation reveals urgent need to reform auto insurance 
Canadians are paying billions for auto insurance fraud –Auto repair fraud costs $547 million in Ontario alone
March 5, 2018 - Aviva launches Enterprise – the first commercial insurance solution that reflects the changing needs of business owners today
Innovative, modular design all under one P&C policy allows for greater flexibility, easy tailoring, and convenient enhancements
March 1, 2018 - Snapsheet Brings Virtual Claims Technology to Canada
Aviva Canada partners with Snapsheet as first Canadian partner, making the claims process easier and more efficient for customers
January 30, 2018 - Bill 150: Aviva Canada supports consumer transparency and protection
Bill 150: Aviva Canada supports consumer transparency and protection

January 16, 2018 - Leadership changes at Aviva Canada 
Leadership changes at Aviva Canada
December 14, 2017 - Outdoorsy Expands to Canada – Bringing the RV Sharing Economy to Millions of Canadians
Outdoorsy and Aviva Canada team up to bring an RV peer-to-peer marketplace to Canadians coast to coast.
December 12, 2017 - Aviva rides with Lyft as it heads into Ontario
Aviva official commercial automobile insurance provider for Lyft in Canada
December 5, 2017 - Aviva Community Legacy Award to U of Ottawa's Polycycle Celebrates Canada's 150th
Aviva Community Legacy Award to U of Ottawa's Polycycle Celebrates Canada's 150th
December 5, 2017 - The Aviva Community Fund Announces the Grand Prize Winning Ideas
Ninth year of competition concludes, bringing total donations to $8.5 million
December 5, 2017 - Aviva Canada Statement on more affordable auto insurance for Ontario drivers
December 5, 2017 - Aviva Community Legacy Award to U of Ottawa's Polycycle Celebrates Canada's 150th 
Aviva Community Legacy Award to U of Ottawa's Polycycle Celebrates Canada's 150th
November 28, 2017 - AVIVA ANNOUNCES EQUAL PAID PARENTAL LEAVE 
All Canadian employees to get equal paid parental leave following the arrival of a new child – regardless of their gender, sexual orientation or how they become a parent
November 23, 2017 - Aviva Fraud Report 2017: "Crash, Cash and Backlash" 
Auto insurance fraud is costing Canadians an estimated $2 billion a year