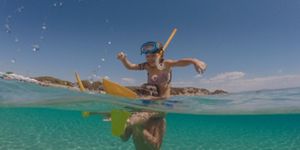 Pack up and go with travel insurance offered by RBC Insurance
Sit back, relax and enjoy your time away from home. Through our partnership with RBC Insurance, you'll enjoy access to their travel insurance solutions so that you can travel worry-free.

Choose the right coverage
Enjoy standard features and choose from popular types of coverage
The "Most Coverage"
Broad coverage for a wide range of unexpected travel situations
Relax knowing you have comprehensive coverage, including:
unlimited emergency medical
trip cancellation and interruption
baggage loss, damage and delay
flight and travel accident insurance
Travel Medical
Fill the gap left by provincial healthcare insurance
Travel medical insurance provides essential protection including:
unlimited coverage for eligible emergency medical expenses
24-hour worldwide emergency travel assistance
Emergency dental treatment if required
Cancellation & Interruption
When things don't always go as planned
This coverage protects you financially in case you get sick or an unexpected event forces you to cancel your trip, come home early or delay your return home.
To learn more about these coverage or for information on coverages embedded in RBC credit cards, or to get a quote, the links below will take you to the RBC Travel Insurance website.

The travel insurance you need
With RBC Travel Insurance, you'll get:
24/7 worldwide emergency travel assistance
Multilingual assistance from caring professionals
Best in class claims service
This insurance is subject to a maximum of $20,000 if you do not have valid government health insurance plan coverage in force for the full length of your trip. Please read the policy for all terms and conditions. Some conditions apply. For complete coverage details, limitations and exclusions see the policy document.
Bon Voyage. But... Essential Information for Canadian Travellers. https://travel.gc.ca. Government of Canada. Foreign Affairs, Trade and Development Canada. https://travel.gc.ca/travelling/publications/bon-voyage-but#before. March 2, 2015. Web. October 8, 2015.
Baggage Loss, Delay & Damage Insurance across Canada is underwritten by RBC Insurance Company of Canada (RICC).