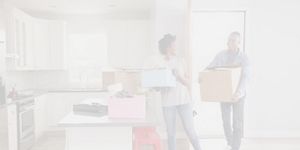 Tenant insurance
Make sure your belongings have the protection they deserve with tenant insurance.
Find a broker
Combine and save up to 20%
As a renter, you want to make sure your belongings are protected. Replacing items like your bike, bed, or computer can cost a lot, especially if you need to replace everything you own at the same time. Relax with tenant insurance coverage from Aviva. You'll get the insurance coverage you need for the things that matter most to you.

Choose the right tenant insurance coverage
Enjoy standard tenant coverage features and choose from optional types of tenant insurance coverage.
Available discounts
We're committed to providing exceptional tenant insurance coverage at competitive rates. You can save even more with our discounts for:
Combining your home and auto insurance policies
Being claims-free

Standard coverage
Standard tenant insurance coverage offers great value and protection for:
Your belongings 

Personal liability of at least $1 million

Living expenses if you need to move out of your home during a covered claim. 
Optional tenant insurance coverages
Need enhanced renter's insurance coverage? Customize your policy to meet your needs with these add-ons.
The availability of these tenant insurance policy add-ons varies by province. To learn more about these policy options contact your insurance representative. 
Water Protection
Get additional protection for your unit with sewer back-up and overland water coverage.
ID Theft
Coverage includes enhanced credit card and debit card protection, legal fees and more.
Earthquake Insurance
Earthquake add-on coverage options to help you protect your personal belongings.
Claim Protector
Keep your claims-free discount after your first insurance claim.
Disappearing Deductible
Reduce your policy deductible every year you don't make a claim. 
Cyber insurance for your household
Defend against digital risks with a full range of services to protect you and your family from potential cyber vulnerabilities.
Combine and Save
Enjoy the added convenience of aligned renewal dates and receive your insurance policies in a single envelope when you combine your auto and tenant insurance policies. You'll also enjoy extra insurance savings.
Learn more
The tenant insurance you need
With Aviva's tenant insurance, you'll get:

Combine and save
You'll get a discount when you combine your auto and tenant insurance policies.
The opportunity to customize your tenant policy
You'll enjoy the standard features of your tenant insurance policy and can choose from optional coverages tailored to your unique needs.
24/7 claim service to help you get back on track
You can make your insurance claim in whatever way suits you best including online, by phone or through your insurance representative.
Tenant insurance FAQ
Is tenant insurance mandatory in Canada?

How much does tenant insurance cost?

How can I save on my tenant insurance?

What does tenant insurance cover?

Why do I need tenant insurance?

Can I add a roommate to my tenant insurance policy?
Insurance brokers, the right choice for you
Get expertise for your tenant insurance needs from coverage to claims support, and discounts.
The content on this page is for information purposes only. The insurance products described herein are subject to eligibility, terms, conditions, restrictions and exclusions, which are outlined in our final policy wording. Please speak with your Aviva insurance representative if you would like to learn more. Availability and pricing vary by province. Certain terms and conditions apply. Please contact your insurance representative for more information.