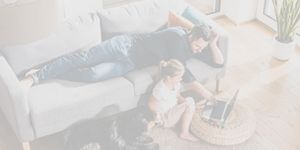 Aviva Cyber Insurance for your household
Your cyber defense in a digital world
Keep up with the fast-paced digital world securely and confidently with Aviva's Cyber Endorsement (optional coverage). From computers and cloud services to smartphones and smart home devices, our lives are more connected than ever before. With these conveniences, we're working, learning, shopping and even storing personal information and photos online. Every device and account provides an access point for those who could do financial, personal, or emotional harm through cyber attacks. Help keep you and your family safe from digital risks with cyber insurance coverage for your household.
Protect your household even more
Rest easy knowing this add-on insurance coverage can help cover expenses after an online cyber breach.
Access to cyber experts
Get dedicated support after a cyber loss with one of our cyber response team members.
Additional benefits for your wellbeing
Receive reimbursement for costs of counselling from a licensed mental health professional for the victim of a "cyberbullying event".
Did you know that cybercrime is on the rise?
According to Statistics Canada, cybercrime rose from over 27,000 in 2017 to over 70,000 in 2021 nationwide.1
What does Aviva Cyber Insurance for your household include?
Defend against digital risks and get back on track with a full range of services to protect you and your family from potential cyber vulnerabilities such as phishing scams and more.
Online fraud
Coverage for identity theft, unauthorized bank/credit card use, counterfeit currency, criminal deception.
Computer attack
Pays for the costs of restoring data and systems following the unauthorized use, access or execution of a malware attack.
Home systems attack
Covers the costs of restoring data and systems following the use, access or execution of a malware attack on your connected home devices.
Identity recovery
Pays for recovery expenses as well as services of a case manager to help restore identity and credit records.
Data breach
Pays for the costs of the loss, theft, accidental release or accidental publication of personally identifying or personally sensitive information in which you are entrusted.
Cyberbullying
Reimbursement for costs incurred from being a victim of a cyberbullying attack. Counselling, legal expense relocation, tutoring, social media monitoring etc.
Cyber extortion
Provides professional assistance in response to a demand for money or other consideration – after a threat to damage, disable, deny access or disseminate content from your device.
We're here for you if you suspect a cyber incident
We have a dedicated team of cyber experts ready to support you through any cyber event.
FAQ
Technology is changing so fast and cyber risks are all around us. Find answers to questions about cyber incidents, cyber insurance and more.
What is a cyber incident?

How would I know if I am at risk?

What are some examples of cyber events?

Are members of my household covered by cyber insurance?

Is my family covered when we go on vacation out of Canada?

What if I have an Ovation® home insurance policy?

Do I need the Aviva Cyber Endorsement if I already have ID theft coverage with Aviva?
2 Canadian Centre for Cyber Security
The content on this page is for information purposes only. Services are provided through an Aviva Canada Inc.'s contracted third party service providers. The insurance products described herein are subject to terms, conditions, restrictions and exclusions, which are outlined in our final policy wording. Please speak with your Aviva insurance broker if you would like to learn more including whether these insurance products are available in your province or territory. Insurance products are underwritten by insurers in the Aviva Canada group of insurance companies, which are subsidiaries of Aviva Canada Inc. Ovation, Aviva and the Aviva logo are trademarks used under licence from the licensor.