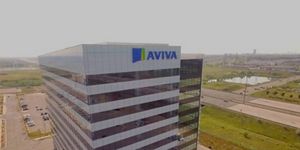 Welcome to Aviva
There are some things you can plan for and some things you can't. At Aviva, we're committed to delivering peace of mind by making sure you have the insurance you need should the unexpected happen.
From your home, car and business to your motorcycle, RV or cottage - we've got you covered. We work closely with our broker partners and take the time to listen and understand what matters most to Canadians like you, so we can offer products and services designed to meet your needs.
We are Aviva Canada
Aviva Canada is one of the leading property and casualty insurance groups in the country, providing home, automobile, leisure/lifestyle and business insurance to 2.4 million customers. A subsidiary of UK-based Aviva plc, Aviva Canada has more than 4,000 employees focused on creating a bright and sustainable future for their customers and communities.
Aviva plc
We are the UK's leading Insurance, Wealth & Retirement business and have operations in the UK, Ireland and Canada. We also have international investments in Singapore, China and India.
We help our 18.5 million customers make the most out of life, plan for the future, and have the confidence that if things go wrong we'll be there to put it right.
We have been taking care of people for 325 years, in line with our purpose of being 'with you today, for a better tomorrow'. In 2021, we paid £30.2 billion in claims and benefits to our customers. 
Aviva is a market leader in sustainability. In 2021, we announced our plan to become a Net Zero carbon emissions company by 2040, the first major insurance company in the world to do so. Find out more about our climate goals at www.aviva.com/climate-goals and our sustainability ambition at www.aviva.com/sustainability.
As at 30 June 2022, total Group assets under management at Aviva Group are £353 billion and our Solvency II shareholder capital surplus is £10.3 billion. Our shares are listed on the London Stock Exchange and we are a member of the FTSE 100 index.