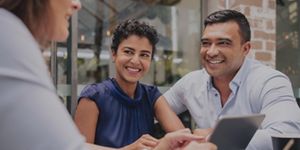 Insurance brokers - the right choice for you
With an insurance broker you'll get the personalized service you deserve.
Get expertise and unbiased advice for your insurance needs including:

coverages
discounts
pricing options
claims support
risk management expertise
and more!

Choice
You'll find choices and options with an insurance broker that you often can't access on your own. A broker will assess your individual insurance needs and do the shopping for you to find the right coverage at a competitive price.
Advocacy
No one wants to make a claim, but if you have to, an insurance broker will help you with the process and can provide claims counseling. A broker's experience and advice is always focused on your needs and satisfaction.
Knowledge
When it comes to determining your insurance needs, put a broker's knowledge to work for you. Brokers are experts at finding you the coverage you need for a competitive price, and can help you determine discounts you're eligible for. They also can support you with risk assessment to help protect you and your family's interests.
Advice
As a licensed insurance professional, using an insurance broker will give you access to their experience and judgement - all at no cost to you! Insurance brokers represent your needs and offer advice you can trust.
Flexibility
Insurance is complicated. That's why to discuss your insurance needs you may prefer to meet in person or discuss it on the phone. With an insurance broker, you have that flexibility - making it easier for you to choose a way that is comfortable and that fits your busy life.
Transparency
Using the services of a broker doesn't cost you any extra. Brokers are paid a similar commission by any insurance company they place your business with. They are also completely open about their transactions and encourage you to ask them about their remuneration.
Responsibility
Brokers are a local resource centre for safety information and crime prevention, and are part of your community's emergency response team. They will be among the first to respond to your needs in the event of a catastrophe in your community. Buying from a broker means you are investing in your own community.
Trust
Simply put - an insurance broker puts your interests first. They aren't an agent of a specific insurance company. Buying from a broker means you can buy with confidence knowing that the recommended coverage is right for your particular needs.
Insurance brokers, the right choice for you
Get expertise for your insurance needs from coverages, pricing options, claims support and discounts.