More than 220,000 claims handled in 2016
Whether you're heading south or staying close to home, relax and enjoy knowing you have the insurance coverage you need. 

Choose the right coverage
Enjoy standard features and choose from optional types of coverages
Available discounts
Discounts are available for:

Bundling your home, vehicle and RV insurance policies with us
Being a member of an RV club
Having monitored satellite tracking of your RV
Installing or having an anti-theft device
Standard coverage
Aviva's RV insurance is for:
Class A motor homes 
Class B motor homes
Class C motor homes

What's covered*:
Loss or damage to the motor home caused by fire, lightning, windstorm and earthquake 
Detached private structures such as a shed or deck 
Contents of the motor home
All policies include*:

ERSBasic - limited emergency roadside assistance:

towing
battery boost 
flat tire service
fuel delivery

Emergency vacation expense coverage
Automatic appliance warranty extension

Optional coverages
Need enhanced RV insurance coverage? Customize your policy with these add-ons:
To learn more about these options, contact your insurance representative.

Elite emergency roadside service*
Upgrade from ERSBasic to get increased towing coverage, plus trip planning, travel and emergency medical advice, and pet assistance.

Outdoorsy RV-sharing network access*
Get access to the Outdoorsy RV-sharing platform and rent out your RV with insurance coverage included.
Additional third-party automotive liability
Covers your legal liability if you injure someone or damage someone else's property.


Personal effects coverage
Choose how much coverage you need to protect your belongings in your home away from home.  

RV-sharing insurance*
Market-leading insurance protection for RV owners and renters on Outdoorsy. Renters and owners are covered by Outdoorsy's commercial policy during any delivery and rental period.
Learn more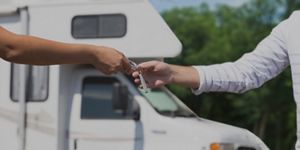 The RV insurance you need
With Aviva's motor home insurance, you'll get:

Emergency roadside service
Basic emergency roadside assistance is just a phone call away.

Emergency vacation expense
Helps pay for expenses to get you home, or continue your vacation after an accident.

Disappearing deductible
Pay no deductible if you're claims-free for five years in a row.

Frequently asked questions
We answer your questions on Aviva's RV insurance

Why should I get motorhome insurance, instead of just adding my motorhome to my regular auto insurance policy?
As the country's largest insurer of recreational vehicles, we've been protecting Canadian fun for more than 60 years. 
Our RV insurance policy is designed for your lifestyle and includes coverage not found in a standard auto insurance policy such as roadside assistance, guaranteed replacement cost coverage, and coverage for contents.
Does your policy cover me if my motorhome breaks down?
Yes. Basic roadside assistance is included in our RV insurance policy. If your motorhome breaks down while you're on a road trip, emergency roadside service is just a phone call away. In many provinces, you can upgrade your roadside assistance coverage to get more services such as increased towing coverage, plus trip planning, travel and emergency medical advice, and pet assistance.

Does your policy cover me if I have an accident with my motorhome and I need to cut my trip short?
Yes. Our RV insurance policy includes Emergency vacation expenses coverage that helps cover the costs of getting you back on the road, or getting you home if you've had an accident with your unit.

I live in my motorhome year-round. Does your RV insurance policy cover my personal legal liability while I'm away from my motorhome?
Comprehensive Personal Liability coverage is available with our policy, covering you when you're on day trips away from your motorhome. You can also buy up to $5 million Premises Liability coverage, which helps cover the costs of legal action if you hurt someone or damage their property while you're using your motorhome.

Does your RV insurance policy cover my belongings inside and around the motorhome, or just the unit itself?
Our policy covers your RV and its usual contents. We also cover other buildings such as sheds and decks. We cover more than what is usually included in a standard RV insurance policy. 

How much does your policy pay if my motorhome has to be replaced after a covered claim?
If you insure your motorhome with Guaranteed Replacement Cost coverage, we'll pay you the cost of a brand-new model even if it costs more than the amount stated on your policy.

Insurance brokers, the right choice for you
Get expertise for your insurance needs from coverages, pricing options, claims support and discounts. 
*Availability and pricing vary by province. Certain terms and conditions apply. Please contact your insurance broker for more information.