Aviva is delighted to partner exclusively with Outdoorsy, the largest RV-sharing marketplace, to bring RV-sharing to Canada. 
We're pleased to provide an RV-sharing insurance solution for renters and owners.
Protection for RV owners and renters
Did you know that your standard RV insurance policy doesn't usually cover commercial or for-profit use? 
If you have an RV insurance policy with us and would like to list your RV on an RV-sharing or rental platform like Outdoorsy, you must add our RV rental network endorsement* to your policy. This optional coverage allows you to rent out your unit on an RV-sharing or rental platform approved by Aviva. Call your broker to add this coverage today.
If your RV is not insured with Aviva and you intend to list it for rental on Outdoorsy, you should talk to your insurance broker first.

During any delivery and rental period, we provide Outdoorsy's commercial RV-sharing insurance** to cover renters and owners. Read the policy document for terms and conditions.
*The RV rental network endorsement is available only for RV insurance policies underwritten by Elite Insurance Company. Availability and pricing vary by province. 
**Outdoorsy RV-sharing commercial insurance policy is underwritten by Aviva Insurance Company of Canada. Certain conditions, limitations, exclusions and restrictions apply. 
How it works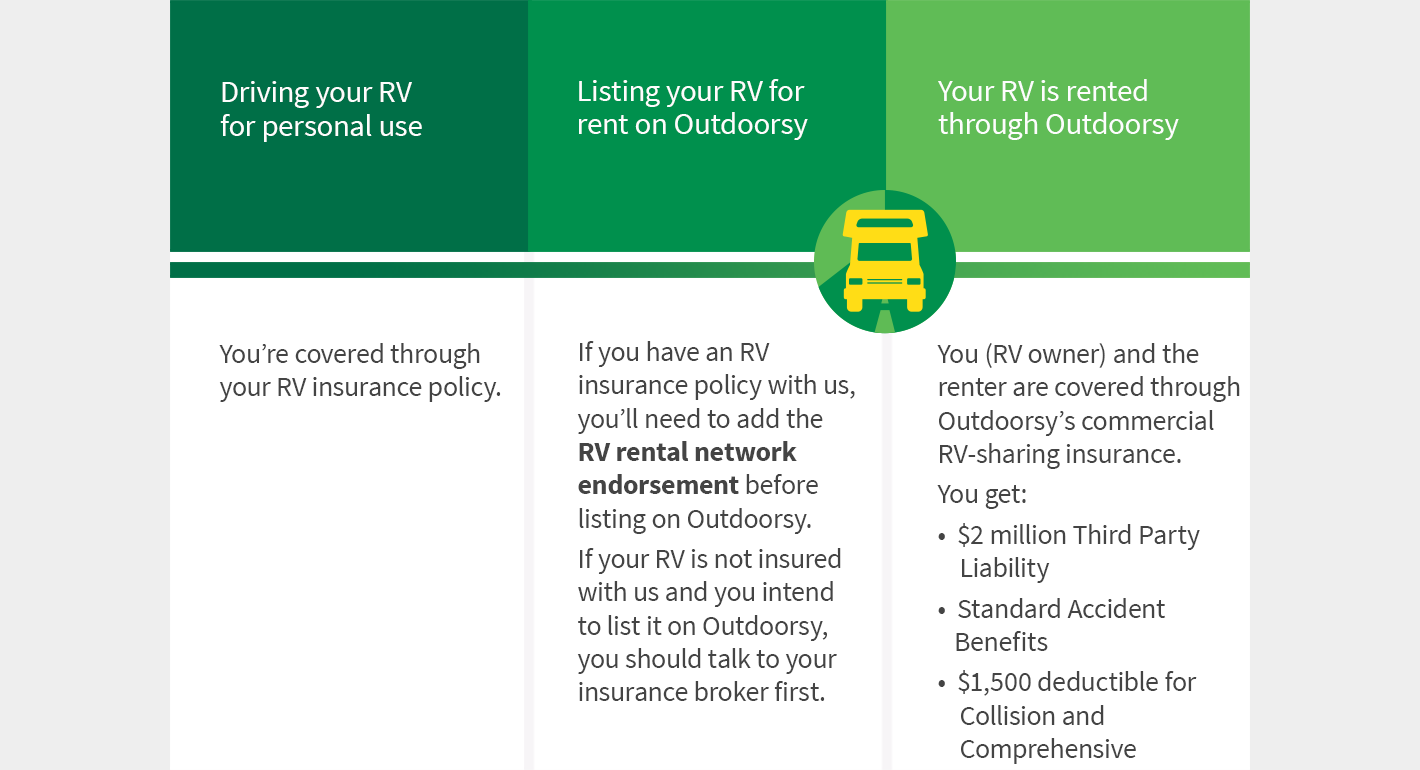 Frequently asked questions
What is Outdoorsy?
Outdoorsy Inc. (Outdoorsy) is a peer-to-peer rental marketplace for recreational vehicles (RVs). It provides RV owners with an online platform to safely and securely list their RVs. When you list or rent with Outdoorsy, you're backed by excellent customer service, five-star ratings and reviews, and comprehensive insurance coverage.
Outdoorsy was launched in August 2015 and is the largest  RV rental marketplace. Outdoorsy entered the Canadian marketplace in late 2017.

Why is Aviva partnering with Outdoorsy?
Aviva has an exclusive partnership with Outdoorsy to bring a safe and secure RV rental marketplace to Canadians. RV owners can now share their RVs with renters, knowing that they're protected with market-leading insurance coverage. 

Are other RV-sharing marketplaces covered by the RV rental network endorsement?
Our RV rental network endorsement is exclusively for RVs insured with Aviva that are listed on Outdoorsy.

Do I need to make changes to my RV insurance policy if I intend to list my RV for rent on Outdoorsy?
Please contact your broker to add the RV rental network endorsement to your policy.  Your RV insurance policy requires you to report any changes to the use of your vehicle.
If you're not insured with Aviva, contact your broker to find out more.
As an owner, is my personal RV insurance policy affected by a renter's accidents or driving infractions (like a speeding ticket)?
Outdoorsy has a commercial RV-sharing insurance policy in place with Aviva that provides coverage while the RV is being delivered and rented. Any claims arising during the delivery of the RV and the RV rental period will be made against Outdoorsy's commercial policy. As an owner, your RV insurance policy may be affected if you don't have permission to rent out your unit.
If a renter commits a driving infraction during the RV rental period (such as a speeding ticket), these infractions may follow their driving record, potentially affecting their personal auto insurance policy.
As an RV renter, do I need my own RV insurance?
No, as a renter, you're covered by Outdoorsy's commercial RV-sharing insurance policy that covers the delivery and rental periods.
For more information on Outdoorsy's requirements for RV renters, visit ca.outdoorsy.com.
As an RV renter, are my personal items covered by Outdoorsy's RV-sharing commercial insurance policy?
Your personal items are not covered for theft, misuse, or damage. See the policy document for coverage details.

Who do I contact in case of a claim?
RV owners need to contact Outdoorsy directly in the event of a claim. Call 1-877-732-7232 or email claims@outdoorsy.com within 48 hours of the reported loss. 
Insurance brokers, the right choice for you
Get expertise for your insurance needs from coverages, pricing options, claims support and discounts.