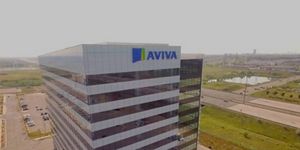 Why Aviva Agency?

We take a smarter, more proactive approach to insurance in everything we do. We're a helping hand when you need it most, offering professional advice and assistance. We'll be there to support you through the process one step at a time:
We offer a wide range of insurance products solutions such as Green Assure and a Claims Service Satisfaction Guarantee* and we'll customize the right insurance coverage for your situation. 
Our insurance claims experts will be in your corner and you can count on them to help when you need them - 24 hours a day, 7 days a week.
Let us help protect your investment and make insurance easy for you and your family.

Aviva Agency Services Inc. is an insurance agent providing support services and offering insurance products directly to customers to help each customer customize an insurance policy that meets their needs. Aviva Agency products are underwritten by Aviva Insurance Company of Canada, Traders General Insurance Company and S&Y Insurance Company. Aviva Agency is a wholly-owned subsidiary of Aviva Canada Inc. Aviva Canada Inc. also owns Aviva Insurance Company of Canada, Traders General Insurance Company and S&Y Insurance Company