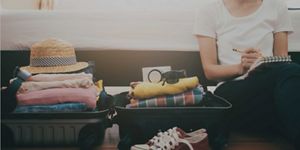 Packing it right - Tips for optimal suitcase organization
Unless you're a professional traveller, packing well can be a challenge. It's surprisingly hard to estimate what and how much you need, whether for a one-week all-inclusive holiday or a four-week trek across Europe. Here are a few tips to keep in mind before your next vacation.
Before you begin, create a checklist. Apps like Google Keep, iCloud Notes or just plain pen and paper can help you get organized before you even take your luggage out of storage.

Are you staying at a hotel or an Airbnb? Most Airbnbs have easily accessible laundry facilities so you can pack a little lighter. Laundry services at a hotel will set you back anywhere from $3-$20 per piece or more, depending on the type of clothing you're looking to launder and the hotel that you are staying at. In this case, overpacking on essentials like socks and undergarments is not a bad idea.

Roll clothing to minimize hard fold lines and wrinkles. Leave the more delicate items until last and lay them nicely, preferably on a hanger and in a garment bag.                                
Use packing cubes or mesh laundry bags to separate different types of clothing and keep your suitcase from becoming a giant messy heap. This also makes it easy to unpack and put things away on longer stays.
Pack bulkier items like sweaters and coats in vacuum bags. However, check ahead to see if a vacuum will be available where you're staying so you're not stuck trying to manually wrestle with the bags on the way home.
Use small cases for small items like cords, hair elastics and the like. For fragile items like jewelry, use a small hard case.                                                                                                                    

If travelling with liquids, make sure they're secured and isolated from the rest of your things - a Ziploc bag within a larger Ziploc bag is a great solution.                                                   



Pack shoes in old grocery bags or reusable cloth bags and away from clothing - the zippered underside of the top of the suitcase is a great spot that can usually fit at least 3-5 pairs. In a pinch, you can snag a bin liner or shower caps from your hotel room.
Keep essentials like medication, inhalers, important documents, and a phone charger in your carry-on luggage. Even short flights can have unexpected delays, so it is important that you have access to critical items at all times.
Add a change of clothes (fresh pair of underwear, socks and clean t-shirt, for example) in your carry-on luggage, just in case your suitcase doesn't make it to your final destination.
Finally, if you're a couple who each has your own suitcase, splitting your items between the two is a good idea, so that if one suitcase is lost, one person hasn't lost 100% of their wardrobe.

Sources:
https://www.travelandleisure.com/slideshows/travel-editor-packing-tips
https://www.marieclaire.com/travel/a17001/packing-tips-tricks-travel/
The content in this article is for information purposes only and is not intended to be relied upon as professional or expert advice. Aviva and the Aviva logo are trademarks of Aviva plc. and are used under licence by Aviva Canada Inc. and its subsidiary companies.