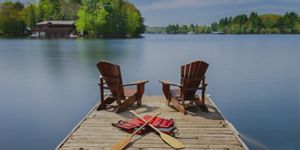 Product spotlight: RetreatLife - Cottages and Cabins
As the popularity for cottage living continues to soar, it's important to let customers know just what they're getting with their insurance coverage.
Could 2021 be the year of the cottage? A Royal LePage survey predicts that cottage and recreational property sales will go up 15 per cent across Canada this year.
Thanks to low interest rates and a surge of urban-dwelling professionals who are retreating to cottage country to work from home, the price of cottages is going up. Way up.
According to Phil Soper, president and CEO of Royal LePage, the cost of recreational properties increased by 16% in 2020. This year, he believes there will be another 15% spike. "Cottages will be about one-third more expensive over just a 24-month period," Soper told CTV News.
With this influx of new cottage and cabin buyers comes a new responsibility for brokers to ensure they're getting the coverage they need. And since they're paying more for these properties, there may be an added desire for cost-effective solutions that ensure their recreational properties are protected.
Whether they're new cottage or cabin owners, or they've upgraded to a more premium property, prompt claims service will be important if a problem arises. Let them know they've got an entire team on their side, in addition to the wide-ranging coverage they can count on.
Aviva's specialty claims team
Our experts know cottage and cabin policies inside and out, and they have the knowledge and are empowered to make decisions to ensure your customers get the care and attention they deserve. The Aviva Lifestyle claim promise includes: No more waiting until Monday to start a claim. Your customers have a 24/7 direct line to dedicated Aviva Lifestyle experts who will get things started immediately. One point of contact will guide them from start to finish.
Aviva Lifestyle's recreational property product offers coverage for:
Island cottages
Cottages accessed by water
Log cabins
Standalone policies
Out of province or multiple ownership
Rented cottages
Cottages with wet boathouses or additional waterfront property
Included in all policies:
Single limit coverage
Docks, hot tubs, bunkies and sheds
Short Term Rental coverage (30 days), with Fair Rental Value coverage
Damage caused by bears, raccoons, and squirrels
Collapse – for both building and contents
Optional coverage enhancements:
Guaranteed Replacement Cost
Replacement Cost Plus
Up to 180-day endorsement to extend 30-day short term rental endorsement
Wet boathouses
Additional waterfront locations
Septic and sump back-up endorsement
Available discounts:

Centrally-monitored burglar alarm
Bundling home/auto/cottage
Claims-free
Centrally monitored heat sensor
Mature (50-year-old or older)
Power outage detection alarm
Water alarm
Learn more

Visit LifestyleQuote to quote, bind and request changes and endorsements for this product.
Get more details about this product in the Lifestyle Resource Centre on AvivaPartner.
Also, checkout last month's Lifestyle eConnect!
The content in this article is for information purposes only and is not intended to be relied upon as professional or expert advice. For specific information about a product, or exact terms, conditions, coverage definitions, exclusions and limitations, please refer to the customer's insurance policy wording or the latest underwriting manual on avivapartner.ca Aviva and the Aviva logo are trademarks used under licence by the licensor.