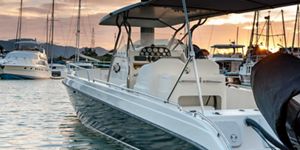 Product spotlight: Watercraft
NautiMax® boat insurance debuts enhancements and updates this season
From sailboats to cruisers to pontoon and deck boats, Aviva's NautiMax® boat insurance has always provided customized coverage for a wide range of pleasure craft. And we're always improving.
Here are some important updates and enhancements to share with your customers as boating season gets under way.

*New* – Updates to NautiMax® coverage

We've added new Navigational Extension endorsements for the West Coast and improved our Navigational Extension endorsements for the East Coast. We've also introduced Incidental Use coverage for even more protection.
Severe Weather Preparedness Guide

Severe weather is on the rise and we've seen an increase in weather-related claims. Help your customers stay safe by sharing Severe Weather Preparedness: A Boater's Guide.
Marine Assistance Program

Aviva Marine Assistance takes protection a step further with advice, support and concierge service to make your customers' time on the water worry-free. Features include:
·       Boat towing – 24/7 referral service if a covered boat breaks down anywhere in Canada or the U.S.
·       Trip planning – Detailed 2-D or 3-D chart navigation, port plans, marine points of interest, standardized depth, tides and currents and more.
·       Boat value/resale assistance.
·       Health and legal assistance – 24/7 telephone advice from healthcare professionals and lawyers anywhere in Canada and the U.S.
·       Concierge services – Help for any boating questions about marinas, boat ramps, repair services, storage, licenses and permits.
Learn more
Visit LeisureQuote to quote and bind this product. And you can find more details in the Resource Centre.