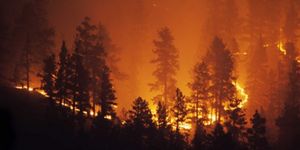 Wildfires: a danger not to be taken lightly
Climate change and extreme weather events are causing more wildfires, such as the Fort McMurray wildfire in 2016, or those in Ontario and British Columbia in 2018. Quebec has also experienced its share of wildfires in the past. In 2010, more than 50 fires ravaged over 702 square kilometers of forest in Haute-Mauricie. The smoke from the blaze had reached the Montreal area!
You never know how big a wildfire or forest fire can be. Wildfires can devastate everything in their path and put lives at risk. They should not be taken lightly.
Would you be ready to face a wildfire?
Here are some practical tips that can help you protect your home or cottage and keep your family safe.
Before a wildfire
If you live in an area prone to wildfires, find out about the procedures in place in the area.
Establish an emergency plan and make sure that each family member knows what to do.
Prepare an emergency kit that will allow you to cope with the first 72 hours.
Follow emergency services on social media to be aware of forest fire alerts. Listen to the local radio station if there is one in your area.
Create a 10-metre defensible space around your property free of flammable material. Clean up pine needles, shrubs, dry leaves, firewood and mulch. Don't forget to look under the deck and in the gutters and be sure to move propane tanks and gas canisters off your property, if possible.
Keep grass short and watered. Trim tree branches a minimum of two meters off the ground. You shouldn't plant trees too close to the property.
Encourage your neighbours to follow similar measures to minimize the chances of the fire spreading from roof to roof.
If a wildfire approaches your home or cottage
Call 911 or your local emergency number immediately to report the situation.
Listen to a radio station in your area for up-to-date information on the fire, weather conditions and potential road closures. Plan how to protect yourself, your family and your animals.
Park your car facing away form the entrance.
Keep your vehicle windows closed and place the necessary items in the car in advance, including your 72-hour emergency kit.
Keep your car's gas tank full.
Be ready to evacuate. If you are told to leave, do it!
If it's safe and you have time
Close all windows and doors in the house or cottage.
To prevent fleece from infiltrating the interior, seal windows and doors with Duck Tape or pieces of previously cut plywood and install a fine-mesh mesh screen on the air outlets.
Inside the house, keep combustible objects, such as curtains and light furniture, away from windows.
Turn on the lights in the house, porch, garage and yard so that visibility is greater if smoke invades the house.
If the water supply is sufficient, activate the sprinklers or lawn sprinklers to moisten the roof and any other valuable waterproof items. Fill large outdoor containers (swimming pool, spa or garbage cans) with water to slow or extinguish flames.
Close the propane or natural gas pipes. Place propane barbecues outdoor, away from structures.
Keep all combustible materials away from the house, including firewood and patio furniture, if this has not already been done.
If the wildfire is very close, wear clothing and shoes that will protect you from sparks and ashes.
Evacuate the area immediately if necessary, even if you have not been able to follow all the steps above.
After a wildfire
Get a copy of the Red Cross Guide to Wildfire Recovery. This guide tells you what to do after a residential fire.
Wait for the green light from the competent authorities before returning home.
Before moving your entire family, make sure that the structure of the house is safe (roof, floors, walls).
Check to see if there is clean drinking water, a working bathroom and sewer system.
Use caution when entering burned areas because there may still be hazards, including hot spots, which can flare up without warning
If it's safe to return home that's been damaged
If you are without power, check to see if the main circuit breaker is in the on position; the circuit breakers may trip due to the fire. If the circuit breakers are in the on position and the power has not yet been restored, contact the utility company and use lanterns or battery-powered flashlights instead of candles.
Wear protective clothing, such as pants, a long-sleeved shirt, gloves, hard hat and sturdy steel-toed shoes.
Discard food, beverages and medicines that have been exposed to heat, smoke, soot and water.
Take photos or videos to keep proof of all your damaged property and report the claim to your insurer.
Sources:
Canadian Red Cross – Wildfires: Before, During and After
Government of Canada – Get Prepared : Wildfires
Urgence Québec

The content in this article is for information purposes only and is not intended to be relied upon as professional or expert advice. Aviva and the Aviva logo are trademarks of Aviva plc. and are used under licence by Aviva Canada Inc. and its subsidiary companies.