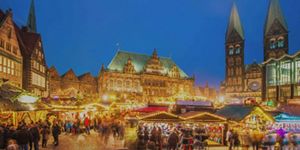 Not Home for the Holidays
Visiting friends and family to spend time with loved ones or cozying up on the couch over winter break are popular options for the majority, but skipping town instead is an exhilarating prospect for many. With a suitcase and a great travel partner, celebrating the holidays in a new country free from the demands of everyday life at home can make your vacation that much more enjoyable. Read on for our top picks. 
Some Like it Hot 
Depending on your love of snow and biting cold, the best place to be at Christmas may be somewhere that doesn't feel like Christmas at all. Getting a healthy dose of sunshine also does wonders for the winter blues. If that sounds tempting, consider the following. 
Costa Rica

A paradise for nature lovers and surfers alike, late December weather in Costa Rica is perfect. An short flight from most cities in Canada also means no jet lag for maximum relaxation time. In addition to beautiful beaches, you can hike the

Monteverde cloud forest, explore an active volcano in Arenal

and much more. Don't miss

Tope - the traditional equestrian parade that happens across the country on December 26th.

The Canary Islands, Spain With temperatures rarely dipping below 20C, these islands are one of a handful of European destinations for winter sun. Make sure to check out the hand sculpted nativity scene at Las Canteras beach, Gran Canaria while enjoying the festivities.

The Caribbean On most islands there are plenty of festivities. The ancestral heritage of the islands with African and European influences are reflected in their Christmas traditions (dancers dressed in colorful costumes for example). Whatever Caribbean island you pick, you will enjoy warm weather and friendly people who welcome visitors with open arms to join the celebrations. 
Some Still Like it Cold 
If you can't bear the thought of missing out on a white, or at least, a cold Christmas, there's no shortage of destinations to choose from.
Cologne, Germany

Germany's Christmas markets are world-renowned. What makes the

Am Domn Market in Cologne especially remarkable is its location at the foot of a seven-century-old Gothic Cathedral - a UNESCO World Heritage site - a truly unique place to sip your gluhwein.


Reykjavik, Iceland

Much is said about the striking Icelandic landscape. Come December, when daylight is limited to four hours per day, this landscape becomes lit with Christmas lights, truly an awe-inspiring vision.

Northern Lights are common during this part of the year, so don't be surprised if you see them dancing in the sky as you explore ice caves and glaciers.

Whistler, Canada

Whistler's epic West coast powder draws visitors from around the globe, so if a Christmas on the slopes is what you're after, book far in advance. A charming town in the Cascades, Whistler

is home to some of the best skiing in the world, but you needn't be an athlete to enjoy it. Picturesque hiking, incredible restaurants and the cozy feeling of a small village all make Whistler a top holiday destination.
Sources: 
Caribbean & Co.: https://www.caribbeanandco.com/caribbean-christmas-celebrations/ 
Trip Savvy: https://www.tripsavvy.com/costa-rica-in-december-1490396 
Canary Islands: https://www.hellocanaryislands.com/travelling-canary-islands-december/ 
Christmas markets Germany: https://www.christmasmarketsgermany.com/cologne.php 
Guide to Iceland: https://guidetoiceland.is/nature-info/iceland-in-december 
Tourism Whistler: https://www.whistler.com/christmas/
The content in this article is for information purposes only and is not intended to be relied upon as professional or expert advice.