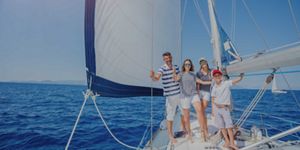 Going away as a family changes your world.
Follow your dream. Seize the opportunity at the right time. Changing pace... Setting a course for the world can change your life. Doing it on a boat with your family is the experience of a lifetime. Have you ever thought about it? I'm sure I have. But have you thought of everything?
Get ready
Going away with your family on a boat for a fairly long period of time requires a lot of planning and there are many things to consider. First of all, you will have to obtain all the necessary certifications, and find THE boat that will become your new family home. Of course, saving up enough money to allow you to live far away without worries is key. In addition to living expenses and good insurance, depending on your destinations, you must also think about boat maintenance, visas and permits and other expenses that come up taking a trip out of the country.
It's not all about trip planning. Before you leave, you have to organize your "regular" life. Sometimes this also means leaving your job, notifying the school, renting your house or apartment, or arranging for pet sitting. Make sure that everything you leave behind is taken care of. Oh, and depending on the places you plan to visit, don't forget to get vaccinated. And don't forget to check you have valid passports for everyone in the family who are going on the trip. Watch out for the expiry dates! Many destinations require your passport to be valid until 60 to 90 days after your return.
Accommodate
When the boat becomes your home, a whole new way of life opens up for you. The incredible sense of freedom is sometimes balanced by a lack of privacy. Because space on a boat is usually tight, you live 24 hours a day... all together. Do you know if your children are prepared for such an experience? It may be a good idea to take a short trip before setting sail on a long journey. You know, so you can adjust when the time comes.
Life on a boat often involves handling unexpected events including weather changes and possible equipment breakdowns, so is more likely to generate stressful situations. Good communication between all family members is key to ensure everyone enjoys the adventure and works together to overcome any challenges.
Strengthen family relationships
Living as a family on a boat is a unique opportunity to strengthen ties in a context other than the home, outside the routine and demands of daily life and often within another culture. To help reduce stress, everyone must do their part to maintain harmony, and impeccable organization is one way to help prevent misunderstandings. These magical moments will generate precious memories, as long as each member of the family benefits from them and feels respected.
Learn
Are you going away long enough for the kids to miss school? If so, you'll probably have to think about going to school on board, and with that comes a good dose of discipline! But it's also a great gift to give them the desire to discover, to learn to live in a community and to explore places they've always dreamed about. Not everyone can visit places that are only accessible by sea and fall asleep every night to the sound of the waves.
On a boat, not only you can admire the breathtaking landscapes, the moving sunsets and the wildlife, but there are also people you meet. It's often these encounters that enrich our travels. The people who share with you a good meal, good times, and who are also looking for escape and enriching experiences, leave a lasting impression on young and old alike.
Leave again
Despite the vagaries of the weather, engine breakdowns, delays caused by customs, and more or less successful anchorages, the unique experience of traveling with your family on a boat will always have more advantages. This is probably why, for the majority of people who have done it, the hardest part is still the moment when you have to come back and find "the other life" again. And the memories that have accumulated and that you hold on to give you only one desire: to plan the next trip and leave again.
The content in this article is for information purposes only and is not intended to be relied upon as professional or expert advice. Aviva and the Aviva logo are trademarks of Aviva plc. and are used under licence by Aviva Canada Inc. and its subsidiary companies.