Nominations Now Open!
When Christie Mills opened her insurance brokerage in 1979, she needed exceptional courage, tenacity and resilience to succeed. With integrity, innovation and a customer-first focus, she blazed a trail for women in the insurance sector.
As a tribute to her accomplishments as she retires, Mills Insurance Brokers Ltd., Aviva Canada and the Ivey Academy are proud to offer the Women Creating Legacy in Insurance Scholarship Fund. Dedicated to accelerating the advancement and leadership of women in insurance, the Canada-wide search is on for women who exemplify Christie's business values, are committed to innovation and put customers at the heart of every decision. Christie and her daughter Amy Mills will be on the judging panel to choose candidates who are blazing their own trails in today's insurance sector. Program graduates will be asked to become ambassadors, help find new nominees and mentor future winners to ensure women leaders get the recognition and support they deserve.
"I wish I had this opportunity..."
The scholarship was created in honour of Christie Mills, who founded her own brokerage in 1979. Her story is one of exceptional courage, tenacity and resilience to succeed.
Watch now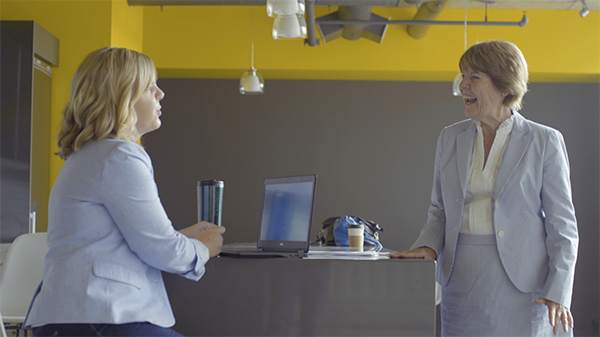 What is the award?
The Women Creating Legacy in Insurance Scholarship Fund will offer a scholarship to attend one of two Ivey Academy programs, based on the recipient's qualifications: the Frontline Leadership Program or the Ivey Leadership Program.  The programs are designed to teach recipients to think more strategically, enhance their leadership abilities and address complex management issues. The recipient of this scholarship will also have access to personal coaching from faculty and peer networks. 
Who is eligible?
Women who work in the insurance sector in Canada and share the same determination and values that Christie exhibited throughout her career are eligible.
Each candidate must have a strong record of:
Demonstrating vision, leadership and an entrepreneurial spirit
Exemplifying strong values, including tenacity, authenticity and loyalty
Championing the customer and putting them at the heart of every decision
Being an extraordinary role model for women in the industry
Driving industry innovation forward to respond to evolving customer needs
Leading digital transformation initiatives that break molds and transform the industry 
Nomination process
Candidates may self-nominate or be nominated by an employer, peer or client.
Nominations should focus on how the candidate exemplifies Christie's values and how she is transforming the business by committing to innovation and putting the customer first.
Nominations should include
A personal statement and video (optional) sharing the pioneering work the candidate has accomplished and the difference she makes for customers and communities. Examples include:

How she's making a difference in the industry by driving innovation, digital transformation and customer-centricity
How she's pioneering new initiatives within her organization
Activities she's involved with outside her company to further herself professionally
How she supports the professional advancement of women in insurance

The name and contact details of a professional reference from an existing employer who can speak to the candidate's exceptional leadership abilities, commitment to advancing innovative solutions and digital disruption and dedication to meeting evolving customer needs.

Nomination deadlines and other key dates
Tuesday September 4, 2018 9:00 EST – Friday September 21, 2018 17:00 EST: Nominations for the Women Creating Legacy in Insurance Scholarship Fund are accepted
Wednesday October 17, 2018 12:00 EST: Recipient of the Fall 2018 Scholarship is announced
Program dates (depending on recipient's qualifications):
November 4 – 9, 2018: Ivey Frontline Leadership Program
November 12 – 16, 2018: Ivey Leadership Program
About the Ivey Academy
The Ivey Academy offers the Ivey Leadership Program and the Frontline Leadership Program to leaders who want to develop their leadership potential and make the shift from managing to leading. Through case studies, team-building exercises, a 360-degree assessment and post-program coaching, students form a deeper self-awareness of their own strengths and weaknesses as a leader and develop skills to drive performance, orchestrate change and develop a leadership culture within their organizations. 
About Christie Mills
In 1979, Christie Mills built Mills Insurance Broker Ltd. from nothing. She had no partner. She didn't buy the book or inherit the business. She started it from zero, with three young children at home. Over the years, she steadily grew the business thanks to her unwavering commitment, strong relationships and loyalty to her customers. Integrity, accountability and a commitment to innovation remain the cornerstones of Mills Insurance Broker Ltd. today, with her daughter Amy Mills at the helm.
As a tribute to her legacy, her brokerage, Aviva Canada and the Ivey Academy partnered together to provide the Women Creating Legacy in Insurance Scholarship Fund to mark her retirement. The hope is to continue to inspire and advance women in leadership in the insurance sector.

Judging panel
The judging panel will include:
Christie Mills, Founder Mills Insurance Brokers Ltd
Amy Mills, President, Mills Insurance Brokers Ltd
Catherine Brown, Vice President, Marketing, Aviva Canada 
Meghan Paczkowski, Operations Manager of the marine division at McLean & Dickey Ltd. (Spring 2018 Scholarship Recipient)
About our Spring 2018 Scholarship Recipient
Meghan Paczkowski, Operations Manager of the marine division at McLean & Dickey Ltd., has been with the company for 12 years, starting in the mailroom and working her way up to her current role. 
Meghan's colleagues have recognized her commitment to innovation and dedication to putting customers first. She played a key role in developing McLean & Dickey's proprietary system "Beast" and is working on a portal to enhance the customer claims experience. She is responsible for teams in three offices across Canada, 90% of which are women, and has helped them develop their own careers and grow in their roles.
Meghan is an active member of Ontario's Young Brokers Council and is on the board of the Barrie-Simcoe Insurance Brokers Association. 

About our 2017 Scholarship Recipient
Marianna Michael, Vice President, Principal Broker at Canfinse Group Inc. was the winner of our 2017 scholarship. Marianna's colleagues recognize her for being innovative and leading the way for brokers in the technology space. Marianna is passionate about promoting a strong and positive image of the insurance industry, and is committed to advancing her staff's personal and educational growth.
By 28 years-old, Marianna was the Broker Principal of Canfinse Group Inc. She currently teaches at the Insurance Institute, sits on RIBO's board of directors, and was recognized as one of Canadian Insurance Top Broker's "Top 10 Under 40".
In 2009, Marianna implemented an e-commerce platform with a chat function for customers. She's played a vital role in developing and implementing Canfinse's client self-service portal. Her commitment to innovation led Canfinse to win the Technology Leader Award from CSIO, and she's helped launch over 60 websites for clients.

Please note, the Ivey Leadership Program and the Frontline Leadership Program is only offered in English, and as such, all nominees must be able to read, write and speak English proficiently.