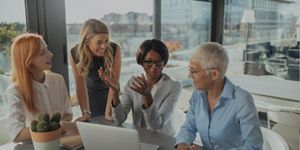 Women Creating Legacy in Insurance Scholarship Fund

Nominations Now Closed!
When Christie Mills opened her insurance brokerage in 1979, she needed exceptional courage, tenacity and resilience to succeed. With integrity, innovation and a customer-first focus, she blazed a trail for women in the insurance sector.
As a tribute to her accomplishments as she retires, Mills Insurance Brokers Ltd., Aviva Canada and the Ivey Academy are proud to offer the Women Creating Legacy in Insurance Scholarship Fund. Dedicated to accelerating the advancement and leadership of women in insurance, the Canada-wide search is on for women who exemplify Christie's business values, are committed to innovation and put customers at the heart of every decision. Christie and her daughter Amy Mills will be on the judging panel to choose candidates who are blazing their own trails in today's insurance sector. Program graduates will be asked to become ambassadors, help find new nominees and mentor future winners to ensure women leaders get the recognition and support they deserve.
What is the award?
Who is eligible?
Nomination process
Nominations should include:
Nomination deadlines and other key dates
About the Ivey Academy
About Christie Mills
Judging panel
About our Fall 2018 Scholarship Recipient
About our Spring 2018 Scholarship Recipient
About our 2017 Scholarship Recipient
Contact
Please note the Ivey First-Time Manager Program and the Ivey Leadership Program are only offered in English, and as such, all nominees must be able to read, write and speak English proficiently. Upon submission of a nomination, you will receive confirmation that your nomination has been received. If your nomination is selected to move forward in the judging process, the nominee will be contacted by the Aviva Corporate Responsibility team. You and/or the nominee will not receive any further marketing materials from Aviva or its partners.