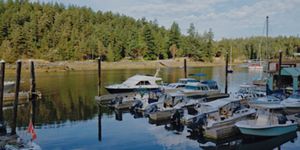 Digital road trip: Boating in BC
Perfect for swimming, fishing, surfing and boating, you could spend the entire summer bobbing from one pristine British Columbia lake to another. We've rounded up a few off-the-beaten-path attractions where you can enjoy a unique experience you'll always remember.
 
Tuck into a memorable meal on Galiano Island
BC's Gulf Islands are a must-see destination for travellers around the world. They vary in size and population, but they all offer quintessential west coast rugged beauty and charm.
Galiano Island is the closest island to Vancouver and perhaps the most rocky and heavily forested. It features dozens of sandstone beaches that are easy to access by boat (and conveniently numbered too). It's easy to while away an entire day exploring tidal pools, whale watching and looking out over The Bluffs. (Hire a moped to easily get around.) There are plenty of places to picnic, but if you want to sit down and enjoy a cultural experience, step into Pilgrimme restaurant, which proudly offers "coast, forest and farm-to-table" fare. Most of their extensive menu is harvested straight from the 60-square-kilometre island, promising exclusive cuisine you won't find anywhere else.
 
Swim and sunbathe on remote beaches in BC
There's no shortage of beaches to be found in British Columbia… but you're going to have to share most of them with the masses. Why not nip into some of the secret hideaways accessible only by boat?
Valdes Island boasts Blackberry Point, a shell beach favoured by boaters and kayakers. The remote Cabbage Island, located in the Strait of Georgia near the east end of Saturna island, is home to a white sandy beach and the kind of peace that comes with plenty of privacy. Savary Island, which lies in the middle of the Strait of Georgia, offers "the warmest water north of Mexico" and is described as one giant sand bar, perfect for sunbathing.
 
Grab provisions and a bite on a floating restaurant on Shuswap Lake
Shuswap Lake is one of the world's most popular house boating channels. It's home to at least three species of salmon and, legend has it, the Sushwap Lake Monster, a huge serpentine creature also known as Shuswaggi.
In addition to peacefully putting around the lake, visitors can make a stop at the popular Shuswap Lake Provincial Park to frolic on a kilometre of sandy, pebble beach, enjoy a large grassy play area or take a hike in nature. Nearby businesses also offer everything from jet-ski rentals to mini-golfing to para-sailing. But you can't take a cruise on the lake without stopping by the Shuswap Shark Shack, which bills itself as the only floating licensed restaurant on the lake. Dine in, take out or just pick up supplies without ever touching dry land.