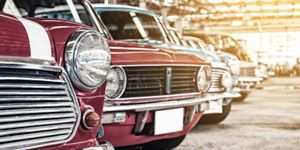 Collector Car Product Spotlight
Want to impress a proud collector car owner? Show them you care about their investment as much as they do—with comprehensive coverage that puts their minds at ease.
Our partnership with Hagerty®, North America's leading expert on classic and collector car insurance programs, provides superior coverage to put your most discerning customers' minds at ease.

Hagerty® provides protection specially designed for the unique needs of collector vehicles, including antique and classic cars, trucks and SUVs, hot rods, replicas, classic boats and much more.

Customers with a growing collection can also expect Hagerty®'s signature Private Client service, which includes customized coverage for a best-in-class policy, a dedicated team to manage their collection with current vehicle values, Hagerty Valuation Tools® and membership in the Hagerty Drivers ClubTM, which offers exclusive events like scenic tours and seminars, award-winning magazine, automotive discounts and roadside service built for collectibles.

Coverage highlights

Guaranteed Value PlusTM – Provides agreed value settlement (19A) in case of total loss, plus additional coverage enhancements including $750 coverage for replacement parts and a deductible waiver for glass repairs.
Automatic New Ride Coverage Endorsement – Provides existing policyholders up to $50,000 and 14 days'* coverage for a newly acquired or replacement collector vehicle.
Cherished Salvage® Coverage Option - Your clients keep their vehicles and still receive the full insured value/Guaranteed Value (less any applicable deductible). No salvage value will be deducted from your client's final payment if they choose to keep their vehicle to restore it or use the parts for the next project.
Evacuation Expense - Provides reimbursement for 50% of reasonable costs incurred to move/store a vehicle to protect it from loss or damage caused by an "emergency condition" - another great, custom option
Hagerty's Private Client Services offers a value-added bundle of coverage for customers with high-valued vehicles or collections including:
Market Appreciation Coverage – Pays up to 125% of a vehicle's insured value in the event of a covered loss.
Newly acquired vehicles are automatically covered for the equivalent of the highest valued vehicle currently insured, up to $750,000.
Questions?
Email broker@hagerty.com or call 888-361-8497.
Learn more
Visit hagertybroker.ca to quote and for marketing resources and information.
*14 days' coverage in all provinces except Alberta; 30 days' coverage in Alberta.
This is a general description of guidelines and coverage. Hagerty determines final risk acceptance. All coverage is subject to policy terms, conditions, coverage definitions, exclusions and limitations provisions and availability. Hagerty Canada, LLC policies are underwritten by Elite Insurance Company, a subsidiary of Aviva Canada Inc. company. Hagerty and Guaranteed Value are registered or common law trademarks of The Hagerty Group, LLC ©2019. All rights reserved.