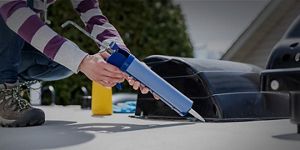 It's hard to believe that the summer is starting to wind down. As the delicious aroma of pumpkin spice starts to waft in the air, the Lifestyle team starts to think about preventative winter maintenance. As we prepare to tuck our RV babies into their winter hibernation, there are four key areas that customers should focus on: Roofs, Frames, Seals, and Protection.
Roofs – The first line of defense
A waterproof roof and an elevated floor are the luxuries that make RVing preferable over tenting. But an RV roof can be battered by the elements and requires regular TLC to maintain its longevity. Small cracks in the fiberglass, or tears in rubber roofs can occur over time. Small rips or tears in a rubber roof should be patched to prevent water damage; hairline cracks in fiberglass should be repaired using a high-quality RV tape. The roof-to-cap joint in a roof (which runs the length of most RVs) is especially susceptible to separation and should be inspected prior to winter storage.
Frames – The skeleton of the RV
Fall maintenance is the perfect time to inspect an RV frame for any signs of structural wear and tear. The underside of a trailer is susceptible to corrosion, and the steel frame can start to bend and flex due to overloading. The timely repair of cracks while they're small can help prevent a catastrophic failure later on.
Seals – The essential water barrier
Trailers and motorhomes have numerous areas were sealants are used. Windows, skylights, roofs, and air conditioning units are all areas that rely on sealant. It is vitally important that owners regularly inspect those sealed areas for early detection of any deterioration. Faded, yellowing, and eventually cracking sealant on the roof and seams is the prime suspect when it comes to water infiltration. By the time cracking is noticeable the joint is no longer watertight and once water enters the unit, mold, discoloration and delamination of walls quickly follow. Many RV manufacturers recommend redoing the seals once every two seasons.
Did you know? Water infiltration through seepage and leakage is the number one cause of denied claims - claims that are not covered by an RV or trailer policy. For water damage to be covered under an RV policy, the cause of the water entering the unit must be "sudden and accidental" such as a burst pipe, or a tree branch falling through the roof during a rain storm. Help your customers avoid a disappointing claims experience by identifying potential water seepage issues.
Protection – Winter storage requires special measures
The first step in winterizing your RV is to remove anything that could freeze in the frigid months. Instruct your customers to drain all water from the unit – fresh water tanks, grey and blackwater, water heater, any hoses, pipes, and outdoor water lines. Next, flush antifreeze throughout the system including drains and toilets. Slide-outs left extended for prolonged periods of time, especially when the unit is left unoccupied, can become weak points and are susceptible to water pooling.
Another area that can be overlooked are the soft surfaces inside an RV. Little critters like to find warm cozy spaces to spend the winter, and a trailer curtain is an ideal nest*. Soft surfaces can also become musty or moldy if any moisture does become trapped during the off-season.
Having a unit professionally winterized and stored at an RV storage facility can help alleviate some of the stress and worry of winterizing an RV. Encourage your customers to either seek professional care and maintenance or to follow their owners manuals, to keep their RV babies safe and ready for the following season.
*The author of this article has personal experience with this particular pitfall.
The content in this article is for information purposes only and is not intended to be relied upon as professional or expert advice. Aviva and the Aviva logo are trademarks of Aviva plc. and are used under licence by Aviva Canada Inc. and its subsidiary companies.