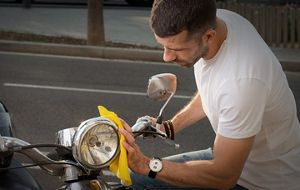 Product spotlight: Motorcycle | Cruiser, Touring, Sport touring, Standard, Sport, Scooter
Heading out on the highway? Here's a quick primer on where to go and what to pack.
Whether you're planning a day trip or a multi-day journey on your motorcycle, it's important to take the time to make a plan that considers every contingency. Here are three things to think about as you get ready for a great time on your ride.
Plan ahead
Experienced riders understand the importance of picking the right day, the right route and the right weather to ride in. As you plan a trip, spend some time on the Internet to explore motorcycle routes in your area. Resources include:
You may also want to talk to more experienced riders or local motorcycle clubs to learn their favourite routes.
Pack carefully
Whether you're going for an afternoon, weekend or a week, it's important to pay careful attention to the gear you bring along. Too little and you'll be caught without essentials. Too much and your bike will be off-balance. Here are some important things to remember:
Clean change of clothes
Waterproof clothing (see below)
Light shoes
Basic tools, e.g. screwdrivers, pliers, wire cutters, wrenches, chain lube
Driver's licence, ownership and insurance
Spare key
First aid items, e.g. bandages, antiseptic cleaner, gauze, tape, etc.
Be prepared for wet weather
Most riders know how to plan their rides around the weather, but sometimes it can take you by surprise. Here are three solutions that'll help you stay safe:
Rain suit: Simple frogg toggs or similar rain suits will do the trick to keep you from getting soaked through if you get caught in a sudden rainstorm.
Rain liners: Most waterproof motorcycle gear come with a liner (or can be purchased separately) to help keep the wet out. It can be zipped in and out of a jacket or pants. Liners are helpful because they are tougher than a rainsuit and don't flap in the wind.
Single-layer waterproof gear: Some bike gear has built-in rain protection as a layer between the outside crash-resistant fabric and a waterproof fabric on the inside.
No matter where you go or what you take, be sure to double check your insurance policy so you can set off with the peace of mind that comes with knowing you're covered.
Aviva's Motorcycle | Cruiser, Touring, Sport touring, Standard, Sport, Scooter coverage
Standard automobile policy with physical damage coverage options
Optional coverages
Waiver of depreciation: Coverage up to the motorcycle's original value without any depreciation if it is a total loss after a covered claim
Satellite roadside assistance: 24/7 across Canada and the U.S.
Loss of use coverage: Covers the cost for a replacement motorcycle, rental car, taxi, or public transit while the bike is being repaired
Personal effects coverage: Covers personal effects that are usually carried on the bike
Other
Coverage for transportation replacement
Vacation expense
Coverage for motorcycle accessories and equipment
Discounts
·       Advanced rider training
·       Hybrid/electric motorcycle
·       Multi motorcycle
·       Anti lock braking system
·       Motorcycle and home
·       Vintage motorcycle
Learn more
Visit Lifestyle Quote to quote, bind and request changes and endorsements for this product.
Get more details about this product in the Lifestyle Resource Centre on AvivaPartner.
The content in this article is for information purposes only and is not intended to be relied upon as professional or expert advice.