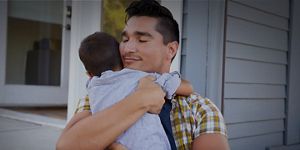 Product spotlight: Manufactured homes
Want to provide the best experience for your manufactured homes customers? Here are a few tips straight from our Lifestyle Claims team.
As a broker, you want to provide the best service possible for your customers. Here at Aviva, it's our job to help you do that.

Shannon Renaud, Assistant Vice President of our Lifestyle Claims department is sharing three important items brokers can consider as they work with their manufactured homes customers.
1. Talk about adequate coverage
According to Aviva's Lifestyle claims department, insureds don't always select an adequate Coverage A (or Coverage B) limit. "Limits are often exhausted on total loss claims and it does not appear for the most part this is intentional," said Shannon Renaud, Assistant Vice President of Lifestyle Claims.
"Based on historical data, total losses on detached private structures (Coverage B) are showing that policy limits are low and it's difficult to sufficiently fund the insured to rebuild these structures. This seems to be driven by Coverage A or Coverage B limits not being high enough to give an adequate enough limit," says Renaud.
To help avoid this problem, she suggests that brokers pay particular attention to the potential replacement cost of a customer's outbuilding. It is important to determine if the rebuild values included in the policy are enough or if an increase to the outbuildings coverage is needed.
2. Advise customers about the importance of maintenance
Renaud's team reports a high number of mobile homes with claims where preventative maintenance might have prevented the loss. In many cases, the risk factors were not captured until a claim was reported.
"There's a correlation between lack of maintenance and increased losses, including a number of problems with winter weather related deterioration. We've found that older homes are in particularly worse condition," said Renaud.
The most common loss causes in manufactured homes are fire, water and weather related claims. "Whenever possible, brokers should suggest proper maintenance year-round, including seals, roof maintenance, regular maintenance or replacement of hot water tanks etc.  It's also important to advise customers of fire safety reminders," said Renaud.
It may be helpful to communicate with customers regularly about the importance of maintenance and the benefits of keeping their manufactured home in good condition. By properly maintaining and updating key areas – such as the roof, furnace, and hot water tank – an insured will be in the best position to maintain eligibility, as well as, potentially prevent future losses.
3. Reassure customers by telling them Aviva has a dedicated specialty claims team
Most customers want to feel like they have an expert on their side—someone who has specialized knowledge of manufactured homes and the things that matter to the people who own them.
You can build trust with your clients by pointing out that Aviva has a dedicated claims team that specializes in Lifestyle products. They know manufactured homes policies inside and out and they have the knowledge and authority to make decisions that ensure your customers get the care and attention they deserve.
Also, the Aviva Lifestyle claim promise includes: a 24/7 direct line to dedicated Aviva Lifestyle experts who will get things started immediately. One point of contact will guide them from start to finish.
Aviva's manufactured home insurance offerings include:
Modular homes
Mini or tiny homes
Mobile homes
Double-wide homes
Included in all policies:
Home
Belongings
Detached buildings on the property, such as a garden shed
Personal liability, up to $5 million
Living expenses while the home is being repaired or rebuilt
Emergency Living Expenses for Earthquake - helps cover the costs of temporary accommodation, food and transportation if customers are unable to live in their home after an earthquake (B.C. only)
Optional coverage enhancements
Overland water protection (BC and AB only), including base policy water protection and sewer back-up coverage
Home Protect Bundle
Guaranteed Replacement Cost for newer homes; for homes 25 years old or older that have been renovated, choose to get the full cost to rebuild up to the policy limit
Available Discounts
Claims-free
Mortgage-free
Safety devices, such as burglar alarm
Factory-built, double-wide home
Newer home
Learn more
Visit LifestyleQuote to quote, bind and request changes and endorsements for this product.
Get more details about this product in the Lifestyle Resource Centre on AvivaPartner.
The content in this article is for information purposes only and is not intended to be relied upon as professional or expert advice. For specific information about a product, or exact terms, conditions, coverage definitions, exclusions and limitations, please refer to the customer's insurance policy wording or the latest underwriting manual on avivapartner.ca.