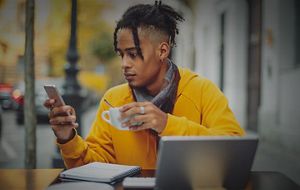 How to do business now - with customers of the future
Younger generations are shaking up the way brokers do business. Find out how you can adjust your practices to work with future customers.
How will you do business with millennials and Gen Zers who reject traditional ways to communicate? Here are a few ideas to help you update your approach to successfully work with the customers of the future.
Use social media
If you want to do business with 20-30somethings, you need to catch them where they live: online. According to the World Economic Forum, millennials are on social media for an average of two hours and 38 minutes every day. Gen Z log on for two hours and 55 minutes. Clearly, social media is a natural place to have a presence, whether you're posting fun pics of your team giving back to the community on Instagram, giving a virtual tour of the office on YouTube or taking on the latest dance craze on TikTok.
You can build community by interacting with other businesses and individuals on your favourite platforms. And invest in sponsored posts and other ways to advertise across social media. When a business is a constant, positive presence, they're more likely to be top-of-mind for prospects when they're looking for a broker.

Offer a variety of ways to communicate
The younger the customer, the less likely they'll want to communicate in traditional ways. That includes phone calls—and don't even think about leaving a voice mail. There's a slim chance Gen Zers even set up that feature on their phones.
SMS texting and direct messaging (DM) on Instagram or other social media platforms are better ways to get in touch with a younger client. Email is an option, but the younger they are, the less likely they use it. You might even consider setting up FaceTime meetings.

Provide online information and service
Millennials and Gen Zers are notorious for preferring online self-service. They don't want to set up a meeting to come into the office or schedule a phone call to go over insurance options. One recent survey called millennials "Generation Mute", based on their reluctance to speak on the phone. They are accustomed to researching, gathering prices, making purchasing decisions and clicking "Buy now" online. Often from their mobile phones.
The more self-service options you can provide the better. Consider being explicit about rates and allowing prospects to guide themselves through the customer journey. Let them know you're always a text message or phone call away for further information but give them the reins to take care of themselves.

There are also many self-serve options for when they are on-boarded as a customer. Most BMS (broker management system) providers offer a self-serve portal option or app where customers can easily access and download their policy documents as well as request policy changes through their mobile device. These include Applied's CSR24, and Pathway's Kiosk to name a few.

Go on campus
Many brokers have success with younger customers by marketing to them on college and university campuses. Students in undergraduate programs are starting to have needs like tenant insurance and auto insurance. Being available to answer questions, solve problems and build relationships with prospective customers when they're young can lead to lifelong loyalty. You may also look to speak or engage with alumni programs to gather more prospects who are moving into their homeowning years.
Talk to parents
Another way to appeal to young adults is to go through their parents. Some brokers keep track of the demographics of their adult customers, noting when their teenagers come of age and pitching auto and tenant insurance at the right time. This is an ideal time to help parents educate their kids about the value of insurance. In many cases, they can get a lower insurance rate by their mid-20s if they already have an insurance history. It's also a great way to build family loyalty with a broker.
It may seem overwhelming to consider overhauling your tried and true customer service practices for new generations, but the learning curve isn't as steep as you might think. You can always engage the expertise of Aviva's Digital Marketing Consultancy for help getting started. Simply reach out to digital lead Charlene Ramdeo (Charlene.ramdeo@aviva.com).

Be careful: it might even be fun.
The content in this article is for information purposes only and is not intended to be relied upon as professional or expert advice.