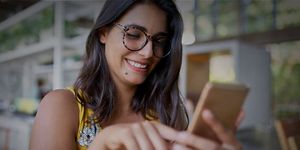 Grow your business with social media
We've got tips for optimizing your strategies with three of the most popular social media platforms.
Want to connect with your customers, drive new leads and position your brokerage as a trusted, community partner? Improve your social media game.
Brokers know that social media is a vital channel for consumers looking to connect and engage with insurance brokers and providers. A 2018 Aviva study found that 88 per cent of brokers post content regularly and 52 per cent use it to engage with current and potential customers.
But social media is constantly evolving and it's up to brokers to stay on top of trends and find new and inventive ways to leverage online platforms to gain insight and be top-of-mind for their customers. Here are a few ideas for three of the most popular social media platforms:
Paid advertising on Instagram
With upwards of 800 million active users, Instagram is a destination for generations young and old. Its highly visual platform is perfect for building community. Successful brokers typically use it to showcase photos or videos of their team working hard, giving back and generally being awesome.
If you want to take your Instagram game to the next level, consider advertising options. You can post sponsored content on the platform to reach a larger and more targeted audience. This can help you generate new leads, move current leads down the sales funnel and increase exposure to all the right people. According to Instagram, 60 per cent of people say they discover new products on the platform and 75 per cent take action after being inspired by a post. It's worth investigating.
Contests and sponsored posts on Facebook
While Facebook is still a popular place for consumers and businesses alike to post and read updates, it's important to take full advantage of all the platform offers.
Contests

Retail businesses have a lot of success with generating leads through Facebook contests. Best practices include:
Identifying your ideal customers
Specifying a goal for the contest, i.e. increase connections, get email addresses, increase brand awareness, etc.
Choosing the right type of contest for the goal, i.e. giveaway, refer-a-friend, photo contest, like to win, etc.
Ensuring you use an email autoresponder to confirm each entry and offer a complimentary consultation or other offer
Sponsored posts

Facebook offers a lot of options for paid advertising. Many brokers make use of the "Boost a Post" feature. Boosting a post essentially amplifies your post to reach new audiences outside of your current follower base. It is a cost effective way to gain more engagements and reach by investing as little as $5. We typically see brokers spending on average $20-$40 for a boosted post. . You can choose the target, duration, budget and conversion tracking options.
Another way to get more traction with Facebook is to use Facebook Ads Manager to set up a campaign. Some brokers choose to employ retargeting campaigns where they can reach warm audiences that have interacted with their website or email marketing campaigns but have not yet converted to customers.

Facebook Insights can also help you see which posts performed the best, measure engagement and get ideas for similar content. With this information you can look for ways to re-engage people who've visited and offer discounts or other promotions to draw them back.

Dipping a toe into TikTok
The masses have only recently adopted this platform that Generation Z has been using for awhile. It reports upwards of 1.5 billion downloads and more than 500 million active monthly users. The app is simple: users upload 15- to 60-second user-recorded videos and allow for in-app editing and integration with other major social players.
Can you make use of it as a broker? Why not? If you're looking to court younger customers (and those from older generations who are young at heart), a funny video of your team doing one of the latest dance trends can be a heartwarming way to get attention and build community. There are also paid advertising opportunities on TikTok, which might be worth testing out.

Not sure where to begin?
If you're eager to try one of these strategies but don't know where to start, Aviva's Digital Marketing Consultancy can help. Connect with digital lead Charlene Ramdeo (Charlene.ramdeo@aviva.com).
Social media is constantly evolving, so it makes sense to measure your efforts and tweak your strategies regularly. Get support when you need it and make the most of a dynamic and ever-growing way to connect with your customers.

The content in this article is for information purposes only and is not intended to be relied upon as professional or expert advice. Aviva and the Aviva logo are trademarks of Aviva plc. and are used under licence by Aviva Canada Inc. and its subsidiary companies.