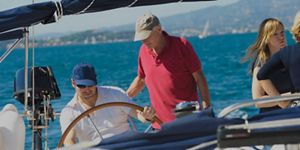 Proof of competency and training
In Canada, every person operating a motorized pleasure craft, regardless of size or horsepower, must carry proof of competency on board. The document shows that you have the basic knowledge to drive your boat safely and that you know what to do in case of emergency. This regulation also applies to personal watercraft drivers.
Boaters who have no documents showing proof of competency must obtain a Pleasure Craft Operator Card (PCOC). The boating safety courses and tests to obtain this card are delivered by providers accredited by Transport Canada.
Did you know that in the event of a marine check, you could be fined $250 if you can't show your proof of competency?
Get 10% discount on your boat insurance policy

Did you also know that if you have taken an 18-hour navigation course from the Institut Maritime du Québec (IMQ) or the Canadian Power and Sail Squadrons (CSP), you can get a 10% discount on your boat insurance policy*?
*Proof of course certificate needs to be provided.
Source:
Transport Canada : https://www.tc.gc.ca/eng/marinesafety/debs-obs-paperwork-paperwork_operator-360.htm
The content in this article is for information purposes only and is not intended to be relied upon as professional or expert advice.