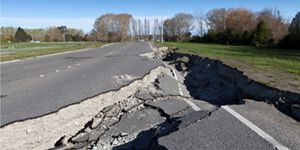 When everything is shaking around you!
If you felt the earth move under your feet recently, you may have been a bit shaken by the minor earthquake which occurred <date>.
Earthquakes occur quite often in Quebec. Most are small and go unnoticed, however, an earthquake of any size may happen without warning, at any time of the year.
Do you think that you would be covered if an earthquake occurs? Well, be aware that unless you have specific coverage, your basic home insurance will not cover loss or damage resulting from an earthquake.
Protecting what's important to you
We care about your personal safety and want to ensure you have the right insurance protection for your property. That's why I recommend you consider enhancing your coverage with earthquake insurance from Aviva.

Earthquake coverage:
protects you from loss or damage to your home and its contents as a result of an earthquake

provides you with compensation for additional living expenses if the damage makes the premises uninhabitable

is not included in your basic home policy, but may be added for a small fee
We're here to help and give you advice
As more buildings age and new developments are built near fault lines, the costs of damages associated with earthquakes are expected to increase.

Contact your insurance broker for more information and to add Aviva's earthquake coverage to your policy.
Sources:
Radio-Canada nouvelles (in French only)
La Chambre d'assurance de dommages - Les tremblements de terre au Québec (in French only)
The content in this article is for information purposes only and is not intended to be relied upon as professional or expert advice. Aviva and the Aviva logo are trademarks of Aviva plc. and are used under licence by Aviva Canada Inc. and its subsidiary companies.