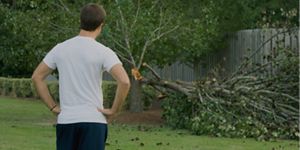 Should You Place That Claim?
As storms become more frequent and widespread, more and more people are experiencing property damages to their homes. Sometimes it can be tough to tell whether filing a claim is worth it or if it is more economical to have something repaired without getting insurance involved. While you should never hesitate to reach out to your broker to discuss, here are a few things to consider.
What is the damage? If a few shingles have been torn off the roof or part of the fence has been knocked down, you may want to consider getting a quote for repair from a contractor. Often cosmetic and nominal damage will be a relatively cheap and easy fix.
Consider the cost and the impact on your insurance premium. Certain insurance policies provide a discount for every year you remain claim free. Similarly, you may have a disappearing deductible that decreases annually under the same conditions. If the damage were extensive, it would make sense to give up this benefit. If not, it may be more financially advantageous to keep the discount for future use.
However, if the damage involves something major like a leak in your plumbing system and/or poses a hazard to yourself or others do not delay, submit a claim as soon as possible.
As always, prevention is the best medicine. Considering that severe weather events show no signs of slowing down, make it a habit to inspect risk-prone areas of your home, like roofing, siding, plumbing and drainage systems.