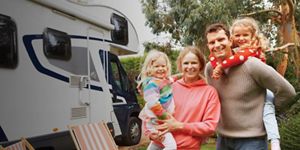 Is an RV vacation right for your family?
RVing is proving increasingly popular for Canadians who want to upgrade the classic family road trip. Is it right for you? It may be if…
You like to rough it – but not too much
If your family likes the fun of camping, but doesn't love sleeping on the ground or trudging to the outhouse in the middle of the night, an RV is a great compromise. Most RVs come with amenities such as a bathroom, shower, kitchen, electricity and running water, so you have the comforts of home inside and the splendors of nature just outside the door.

You want to cover a lot of ground
The family vehicle can feel spacious at the beginning of a day of driving, but, at some point, leg cramps and boredom will set in. An RV offers more room to stretch, spread out a snack, play a game of cards and snuggle up with your favourite pillow.

You love the great outdoors
One of the best parts of being on an RV is the convenience and comforts of a home-like atmosphere, so it's easy to forget that the natural world is at your doorstep. Campsites are built around beautiful backdrops and your daily life can include everything from swimming, hiking, fishing, biking and much more. And instead of cramming into a hotel room at the end of the day, you can pull up a chair around a campfire every night.

You like to be spontaneous
A standard family vacation involves planning an itinerary, booking accommodation on specific dates and committing to the plan. An RV vacation is a little different. Sure, it's best to have a good idea of your route and book a few campsites along the way, but there's more flexibility to include spontaneous fun, especially if you're on the road less travelled.

You like to bring a lot from home
If your family has a lot of comfort items, the start of a standard summer vacation may involve some tears… unless you're going RVing. Pillows, blankets, toys, bikes – even pets in some cases – can all come along for the ride. In fact, the more you bring from home, the less you have to buy or rent along the way.

If it sounds like RVing might be something you'd like to try this summer, but you're not quite ready to make the commitment of RV ownership, there is now a peer-to-peer RV sharing site. Aviva Canada has teamed up with Outdoorsy, the most comprehensive platform for outdoor travelers to rent stylish, awesome RVs in Canada. Outdoorsy is safe, easy, your rental is fully insured, and has a great local selection of RVs and trailers for rent. They are free to join with no membership. Similar to accommodation rental sites (ex AirBnB), Outdoorsy allows RV owners to rent their RVs out to those who are looking to experience the RV lifestyle.
Check out their website, ca.outdoorsy.com, and see what RVs and trailers are available in your area. Then go on, hit the road, and experience the great outdoors in comfort.
The content in this article is for information purposes only and is not intended to be relied upon as professional or expert advice. Aviva and the Aviva logo are trademarks of Aviva plc. and are used under licence by Aviva Canada Inc. and its subsidiary companies.