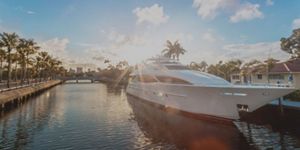 Florida has more to offer than you think
When you consider Florida, palm trees and translucent water come to mind. It is also the starting point for most Caribbean cruises. But, this state has much more to offer. With more than 1,300 miles of coastline, and the interior home to various lakes and tributaries, Florida is an ideal place to enjoy a multitude of water sports and leisure activities. Considered the boating capital, Florida offers something for everyone. Whether sailing, fishing, diving or regattas, boaters will find their happiness in the waters of the Atlantic, the Gulf of Mexico, Keys or in lakes and inland waterways. It's not to mention the stopovers rich in discoveries and the many spots to admire the magnificent sunsets!
Where to dock
Jacksonville, with its dream marinas, luxury hotels, parks, renowned restaurants, waterfront festivals and fishing tournaments, will surely entertain boaters. St. Augustine, the oldest city, has beautiful beaches and a must-see historic district. Fort Lauderdale, also known as the Venice of America, is considered the world capital of boating, while Miami, with its cultural attractions and nightlife, is an ideal base for an excursion to the Bahamas.
The Keys are among other things conducive to the most beautiful dives in the reefs and wrecks of Key Largo and Islamorada. For their part, Tampa Bay and St Petersburg offer you the most beautiful hidden bays and downtown Tampa will delight gourmets. Finally, Pensacola, Fort Walton Beach and Destin offer wonderful beaches and deep-sea fishing like nowhere else.
When to visit
From May to October, the climate is conducive to heavy rains and hurricanes, with a more active period between August and October. At this time of year, conditions can be unpredictable. In summer, you will experience humid and scorching temperatures, with the hottest month between June and September. Positive point: the sea temperature can reach 30o C. From December to February, the weather is milder and milder.
Are you planning a jaunt on the blue waters of Florida? You won't be disappointed.
Site Où et quand partir en Floride  (In French only)

Site Climats et voyages  (In French only)

The content in this article is for information purposes only and is not intended to be relied upon as professional or expert advice.