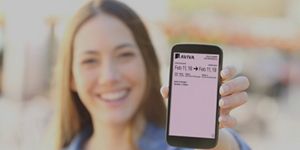 A digital pink slip makes it quick and easy for you to access your key auto insurance information. It's stored securely and you can access it at any time from your smartphone or tablet.
Here are some of the key features and benefits:

Your digital pink slip is directly downloadable into your Apple Wallet or Passes app
You can access important general information if you're in an accident, including what details you need to collect from the other driver(s) involved
One click and you can call your broker or Aviva's claims team
You can share your digital pink slip easily, for example, with the other drivers insured on your policy
Once downloaded, connectivity to a network or Wi-Fi is not an issue since the digital pink slip is stored right on your device and isn't a separate app

How to request your digital pink slip

It's quick and easy to request your digital pink slip – all you have to do is contact your insurance broker. When you receive your digital pink slip via email or text, click on the link to store it in your Wallet or Passes app on your mobile device.
Be sure to click on the link right away because it will expire within 24 hours – if you need a new link or are having any issues, please contact your insurance broker.
Click here to read our digital pink slip terms and conditions.