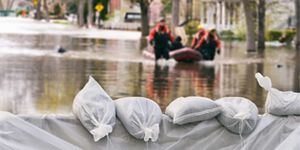 Spring time is here. Beware of floods and water damages!
Spring is synonymous with renewal, it announces the return of beautiful weather. Unfortunately, spring also brings heavy rain and melting snow – often too fast – which increases the risk of flooding and water damage. And, if on top of that strong winds get into already flooded areas, they can increase the flow of water and cause overflows which is a disaster.
We just have to remember the spring floods of 2017 caused by melting snow and heavy spring rains, which resulted in abnormally high totals for April and May. It was a real natural disaster, because municipalities were flooded that had never experienced flooding!
Does my insurance policy cover floods?
Standard home insurance policies don't cover damages caused by floods. However, a number of insurers, including Aviva, now offer coverage for water damage resulting from the overflow of water. This coverage can be added to your home insurance policy for an additional cost. This product is relatively new on the market, is not widely available and there are certain eligibility criteria. If you're interested by this coverage, contact your broker to see if you are eligible.
If you're not eligible for this coverage, you may be eligible for the Financial assistance program for disaster victims of the Ministère de la Sécurité publique du Québec.
Floods - What to do to protect your home and family before, during and after a flood.
Before flood

Flood imminent and during the flood

After flood
Once back home, take action immediately to reduce the damage. 
If you have purchased the additional protection covering water damage resulting from the overflow of a watercourse*:

If your insurance policy does not cover damage resulting from the overflow of a watercourse:
Because of climate change, water damage is becoming more common and more serious. Prevention can play an important role in minimizing their impact. The inspection and exterior maintenance of your home should be part of an annual or even biannual routine. Your insurer is your best source of information in case of water damage. They will provide valuable advice.
* Check your insurance policy for conditions, restrictions or exclusions or talk to your broker to make sure you are covered.
Sources:
Government of Canada – Floods – What to do? 
The content in this article is for information purposes only and is not intended to be relied upon as professional or expert advice. Aviva and the Aviva logo are trademarks of Aviva plc. and are used under licence by Aviva Canada Inc. and its subsidiary companies.