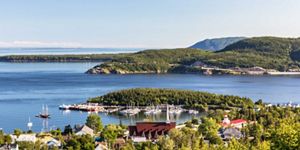 Five destinations popular with Quebec sailors
Quebec is full of spectacular places to sail. The landscapes are majestic, the bays and beaches are accessible and the people are welcoming. There is no shortage of destinations, but Quebecers have their favourite waterways to navigate. Here are some of them.
The St. Lawrence River: 

The St. Lawrence River is 3,700 km of wild beauty, from the Great Lakes to the Gaspé Peninsula. We go there to sail, practice water sports, fish or swim. Its countless islands, breathtaking cliffs and sunsets are all elements that have won the hearts of Quebec boaters. And. that's not to mention the marine fauna, the many bird species, as well as the unique flora. Plus, when it comes to anchoring or mooring at the marina dock, the choice is exceptional.

The Saguenay River: 

The Saguenay River attracts many Quebecers. This is quite understandable when you think of its spectacular fjord, unique biodiversity, the nautical clubs offering many services and the breathtaking scenery . 

Click here to read our detailed article on the Saguenay River

.

Lake of Two Mountains: 

How can you not be seduced by this magnificent 43 km long lake, located only one hour from Montreal? You can discover about fifteen bays, beaches and many marinas, such as 

Hudson

, Oka and 

L'Île-Cadieux

.

The Richelieu River: 

Rising from its source in Lake Champlain and flowing into the St. Lawrence River, the Richelieu River is 124 km long. Well marked, it has several sites that bear witness to the history of Quebec that can be visited during your trip, such as the Chambly Canal, Fort Lennox, Fort Saint-Jean and Fort de Chambly, which receives thousands of visitors each year.

Lake Champlain: 

Located in southwestern Quebec, Lake Champlain is mostly located in the United States. There are about 40 marinas, such as thos in 

Saint-Paul-de-l'Île-aux-Noix

, 

North Hero

 and 

Mooney Bay

,which are amongQuebecers' favourites.
What are you waiting for to explore our wonderful territory? The possibilities are endless.
Sources:
Québec Yachting : Où préfère-t-on naviguer au Québec? (in French only)
The content in this article is for information purposes only and is not intended to be relied upon as professional or expert advice. Aviva and the Aviva logo are trademarks of Aviva plc. and are used under licence by Aviva Canada Inc. and its subsidiary companies.