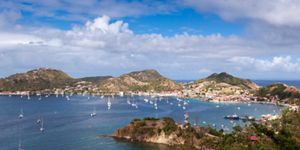 Guadeloupe or archipelago of happiness
Setting foot on Guadeloupe (or sailing in its clear waters) is an extraordinary experience. With its heavenly beaches, magnificent landscapes and welcoming people, the pearl of the West Indies has so much to offer that as soon as you leave, you have only one desire: to return as soon as possible. The archipelago is an ideal destination for all nature lovers, but also for sailors in search of dreamy landscapes. Discovering Guadeloupe by boat means having the opportunity to explore beaches and coves that are difficult to reach by land, to see a multitude of exotic fish and to enjoy incredible views of the coasts. Have you thought about visiting Guadeloupe? Here are some of the must-see items that will certainly inspire you.

The Saintes
The archipelago of the Saintes is composed of two islands: Terre-de-Bas and Terre-de-Haut. Easily accessible on a day trip, there are small fishing villages, such as Grande-Anse, where you can visit a 17th century church, beautiful beaches and several hiking trails. The island of Terre-de-Haut, for its part, reveals pretty fishermen's houses in pastel colours. Once there, take the opportunity to see Fort Napoleon and its historical museum. Terre-de-Haut is also famous for its breathtaking bay, which is one of the five most beautiful in the world!
Saint-François and the Pointe des Châteaux
On the south coast, Saint-François is a tourist city worth a visit with its marina, attractions and lagoons with turquoise waters, where it is possible to feel alone in the world. Visit the village and the public market, taste the cuisine in nenowned restaurants and let yourself be seduced by the relaxed atmosphere. Close to the town, climb the Pointe des Châteaux, a wild peninsula whose cliffs are whipped by the sea. From above, you can admire the surrounding islands. A must see.
La Soufriere Volcano
La Soufriere has erupted several times since 1660 and is the highest peak in the Lesser Antilles which can be climbed by hikers in almost two hours on the Chemin des Dames trail. Note that it is one of the few active volcanoes that can be climbed. At the beginning of the hike, there is a natural swimming pool with hot water at 30°C. The ideal place to swim on the way back! Be sure to visit Carbet Falls, also located in the rainforest. During the ascent, you will come across many hot springs and fumaroles and when the sky is clear, you can admire panoramic views at the highest points.
The Cousteau reserve, a diver's paradise.
Located near Bouillante, off Basse-Terre, the Cousteau Reserve (the most beautiful in Guadeloupe) is an exceptional marine reserve, which will seduce both advanced and beginner divers. In its exceptional underwater bottoms, which cover 1,000 hectares, you can encounter magnificent corals, exotic fish, turtles and even humpback whales in a warm and clear sea. Although accessible by scuba diving the site is protected thanks to the efforts of Commander Cousteau. Live this magical experience!
Sweet island flavours
Buffalo chicken, cod acras, seafood... You will find something to eat everywhere in Guadeloupe. Whether on the roadside or in gourmet restaurants, the local cuisine is unique and memorable. There are also desserts, with a strong emphasis on exotic fruits, coconut and vanilla flavours. And, what are we drinking? Rum, which is found in many of the region's classic drinks such as the farmer and the ti-punch. Your taste buds will love it!
Are you itching to leave? The best time to visit Guadeloupe is from November to April, when the dry season means hot and sunny days, perfect for a dream holiday. Take to the open sea and enjoy the sun, memories and flavours.
Sources:
7-days sailing route in Guadeloupe
A guide to Guadeloupe : where France meets the Caribbean
15 best things to do in Guadeloupe
The content in this article is for information purposes only and is not intended to be relied upon as professional or expert advice. Aviva and the Aviva logo are trademarks of Aviva plc. and are used under licence by Aviva Canada Inc. and its subsidiary companies.