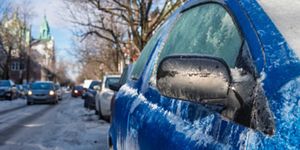 Freezing rain, heavy rain, etc.
Quebec winters are no longer what they used to be. Climate change affects the style of precipitation received in winter. Freezing rain, heavy rain now combine with snow.
Who doesn't remember or hear about the January 1998 ice storm? This is an event that will remain etched in everyone's memory for a long time due to all the damage that had occurred, and the trauma experienced by some. And let's not kid ourselves, it's quite possible that we'll have another ice storm in the years to come.
This past winter also saw a lot of different kinds of precipitation: snow, freezing rain – causing the famous ice storm –, rain. Environment Canada recorded 72% more rain than usual and, 36 cm more snow than the average.
So how can we prepare for these new Quebec winters?
Just as we adapt our driving to winter conditions, we must take the necessary measures to protect our home.
You should closely monitor the risk of roof collapse during extreme winter conditions. Heavy snowfall and ice build-up can not only threaten your roof, but can also cause water damage when accumulated snow or ice melts and infiltrates the house. If necessary, consult our article Three excellent reasons to remove excess snow from your roof.
Ice that forms when freezing rain falls is also a danger to the health and safety of people. So, make sure you follow these safety instructions.
When an episode of freezing rain is announced
Stay informed about future weather conditions.
Plan what you need at the grocery store and pharmacy (have enough medication) to avoid going out.
Provide extra lighting in the event of a power failure (flashlights, candles).
During freezing rain
If you don't have to go out, stay home!
Be careful, slippery roads!
At home:
Beware of outside steps and frozen walkways. Use extra caution and apply abrasive to avoid falls.
On the road:
Slow down and keep a good distance between your vehicle and the one in front.
Plan more time for your travel
Avoid abrupt manoeuvres
On foot:
Use non-slip devices such as crampons to put on boots to prevent slipping and injury. Don't forget to remove your crampons once inside, otherwise there is a danger of slipping.
Beware of ice-laden tree branches that could break and injure you, as well as ice falling from roofs and ledges.
Ice often causes power outages.
Beware of carbon monoxide!
If you use a generator, install it outside your home or garage as far away from doors and windows as possible.
Never use gas-powered appliances such as a stove, auxiliary heater, camping heater or barbecue to heat the inside of your home.

In the event of a prolonged power failure:
If you do not have a generator that allows you to stay safely at home, check to see if your municipality has provided accommodation where you can go, or ask relatives (parents or friends) if you can say with them..
Remember to bring your 72-hour emergency kit. If you don't have one, here's how to prepare your 72-hour emergency kit.
Home insurance policies generally provide for the reimbursement of expenses for housing and food in the event of an evacuation or if the house becomes uninhabitable. However, before incurring expenses, it is important to check your insurance policy or talk to an insurance adjuster. Keep invoices for temporary accommodation, meals or transportation for reimbursement.
Beware of food poisoning!
In principle, food stored in your refrigerator should remain cold for about four to six hours. If the power failure lasts more than six hours, you will have to sort the food to avoid food poisoning.
The freezer, on the other hand, can store frozen food for 48 hours, if full. If it is half full, it keeps the food frozen for 24 hours.
Your insurance policy also covers food losses due to power outages, up to a certain amount. Keep the evidence and take pictures.
Sources:
Institut national de la santé publique du Québec – Mon climat, ma santé (French only)
Institute for Catastrophic Loss Reduction – Protect your home from snow & ice storms
Government of Quebec – Precautions in the event of a winter storm or freezing rain
Agriculture, Pêcheries et Alimentation Québec – Pannes d'électricité et vos aliments : quoi garder et quoi jeter (French only)

The content in this article is for information purposes only and is not intended to be relied upon as professional or expert advice. Aviva and the Aviva logo are trademarks of Aviva plc. and are used under licence by Aviva Canada Inc. and its subsidiary companies.