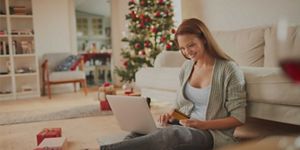 8 ways to save money during holidays
Ringing in the new year with a credit card bill that makes you cringe is no fun. Although it's tempting to go all out for your loved ones, and it's certainly encouraged by retailers and media alike, there are ways to resist the pressure and focus on priceless gifts - time, attention and connection.
Here are a few strategies to start thinking about how to keep yourself from falling prey to holiday overspending:
Carve out time for friends and family well in advance. Schedules are hard to coordinate, especially in big families or large groups, and making up for it with material things can be an easy way to relieve guilt or regret. Take the initiative early on to make plans with the people you care about. Modern-day tools like group messaging and shared calendars make it easy to coordinate and keep everyone in the loop. Make it even easier for everyone to decide by providing a handful of options and dates so the choices don't become overwhelming. Making memories together, especially when it's a rare occasion, is more meaningful for all involved.
Make a budget and stick to it. You can choose to establish a general budget or try allocating a specific amount to each person on your gift list. The way you create your budget is up to you, but one thing is sure: you need one.
Make a shopping list and start early. You can begin looking for Christmas gifts at any time during the year. End-of-season sales, Black Friday and Cyber Monday are great times to shop and save. If you shop early though, be sure to keep a record of what you have gotten for whom and what you still need to buy.
Organize a gift exchange. Slash your spending by only buying a gift for one person in your family or group. Even with a higher budget limit, you're sure to save a significant amount of money as even those $20-$30 gifts for a distant great aunt or a second cousin thrice removed can add up quickly. This way you can also ask around and get incredible gift ideas for your giftee that others may have been keeping to themselves.

Reconsider your small daily splurges. It's easy to get into the habit of a daily morning latte or a casual $10 lunch and soon you're spending $50 a week on mediocre sandwiches and unremarkable coffee. Curbing the habit can make savings add up quickly. And best of all, you can get a head start on a New Year's resolution to bring a packed lunch or make a to-go coffee at home and be in full stride before the old year is out.

Use a credit card with cashback rewards. This is less about saving money, and more about optimizing your spending. Provided you have good credit and have no trouble paying off your balance, choosing a form of payment that will earn you a little something extra is a no-brainer.

Turn on notifications from your bank and credit card companies. Using cash as a means of sticking to your budget is an age-old trick. However, as mentioned, cash doesn't offer rewards, and if you lose cash - it's gone forever. A more modern approach of turning on purchase notifications can have the same effect of making you cognizant of your spending. The benefits of notification are not unique to the holiday season either - keep them on to be mindful of day to day spending in general, and to detect unauthorized purchases and fraudulent activity quickly.

Skip gifts altogether. Gift-giving is a common tradition, but you can certainly make your own. Consider spending your holidays serving meals to less fortunate members of your community, visiting senior homes or participating in blanket and clothing drives. There is no shortage of volunteering opportunities around this time, so take the leap to do something different and give your time and kindness to those who could really use it. 
Sources:
Discover Modern Money – 6 Tips to Save Money During the Holidays
The Balance – 5 Ways to Save Money on Christmas Gifts
Money Crashers – 9 Best Way to Save Money During the Holiday Season
The content in this article is for information purposes only and is not intended to be relied upon as professional or expert advice. Aviva and the Aviva logo are trademarks of Aviva plc. and are used under licence by Aviva Canada Inc. and its subsidiary companies.