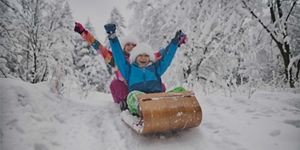 This holiday season, choose your own adventure
A roaring fire and a house full of relatives sounds like the perfect way to spend the holidays. For others taking off for a week to a new city is much more appealing. Whatever a perfect downtime looks like for you, here are a few ideas to consider.
Winter sports. Sledding and ice skating are a low-cost way to spend a full day getting fresh air and exercise. If skiing is more your speed, many ski hills offer family and group discounts, as well as price breaks if you buy your tickets in advance or online.


Check out your local tourism board. From the German Christmas Market in Quebec City, the Magical Christmas Forest in Woodbridge, Ontario, the Christmas at the Causeway in Barrington Passage, Nova Scotia to the Airdrie Festival of Lights in Alberta, there is no shortage of holiday activities for tourists and locals alike. 


Host a cookie swap. Turn your kitchen into a mini bakery for the day, or keep things simple and exchange tins of cookies with a handful of friends and neighbours. It's a great way to share your favourite holiday recipes and maybe find a few new ones.
Volunteer in your community. Helping hands are always welcome during the holiday season. Check out events at local organizations, community centers and churches to see where your skills can be used.


If you love Christmas and prefer a change of scenery to recharge and reset, a Christmas in New York is an excellent idea. The city that never sleeps is awash in holiday lights, with more walking tours, events, theatre and parties than you can imagine.


Looking for something a little more off the beaten path? Christmas in Vietnam is a unique experience. A combination of Vietnamese architecture, Christmas lights and lanterns is a sight unlike any other.


Looking for more holiday travel inspiration? Check out these ideas.
Sources:
LifeWay Women – Fun Christmas Activities for Whole Family
New York – Best Christmas Things to do in NYC
Paradise Travel - Top 10 Places to Spend your Christmas in Vietnam 2019
The content in this article is for information purposes only and is not intended to be relied upon as professional or expert advice. Aviva and the Aviva logo are trademarks of Aviva plc. and are used under licence by Aviva Canada Inc. and its subsidiary companies.