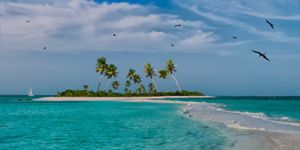 The Bahamas: Boaters' Paradise
With crystal-clear waters, an abundance of marine life, welcoming peoples and a well-preserved culture … the Bahamas offer up postcard-worthy landscapes of unmatched beauty and authenticity. Located between Cuba and Florida, the islands of the Bahamas can be explored one by one at the whim of the trade winds.
Plenty of nautical activities

Often centred on the sea, there's always something happening on the islands. Be it diving, swimming or fishing, the Bahamas's turquoise waters are more than inviting and apparently boast the best underwater visibility the world has to offer. See multicoloured fish, turtles, manta rays, explore underwater caves or take in some waterskiing, kitesurfing, windsurfing or any number of other nautical activities. Or why not even swim with pigs in Big Major Cay! Not to mention the unforgettable fishing experiences that are to be had in the plentiful waters of the archipelago.
City side
Inescapable Nassau—an unparalleled cultural experience! Discover the local cuisine, colourful houses, boutiques and museums, as well as luxurious hotel complexes. Meet the locals and get to know more about a truly rich and authentic culture. Take in heavenly beaches in Grand Bahama or explore the island by jeep. Or you can visit historic villages in the Exumas, located further to the south. 

When to visit the Bahamas
Thanks to the trade winds, the climate in the Bahamas is almost always warm and pleasant. Though fairly constant year round, the weather is a little bit cooler between December and February (between 20 and 24o C). The bottom line being that there is no wrong time to visit the Bahamas.
With its 700 islands, the archipelago is sure to please in more ways than one and to quench even the most seasoned traveller's thirst for adventure. Let yourself be enchanted by the colours and fragrances of the Bahamas!