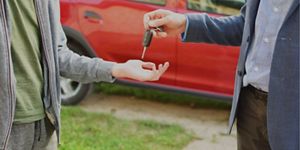 Lending your car and the insurance
Letting a friend or a family member borrow your car may not seem like a risky decision but it has the potential to have severe financial consequences if they get into an accident. Most car insurance policies cover the car and any driver who has permission to drive it and did so legally.
However, you may also want to consider the following:
If you're lending your car on a regular basis, speak to your insurance broker and add that person as a driver on your auto insurance policy. In this case, if they do get into an accident, you won't have to go through the extra hassle of explaining why they were behind the wheel.

If an accident happens, who will pay the deductible? You are responsible under your insurance policy if a deductible applies.

Are you comfortable with the potential cost increase to your policy? If the driver of your car is found at fault, it's your premium that may go up.

How much third party liability coverage do you have? The mandatory coverage in some provinces may not be enough, speak to your insurance broker to ensure you have the right amount of coverage.
The content in this article is for information purposes only and is not intended to be relied upon as professional or expert advice. Aviva and the Aviva logo are trademarks of Aviva plc. and are used under licence by Aviva Canada Inc. and its subsidiary companies.