We insure over 2.1 million vehicles across Canada
Whether you're on vacation or travelling with your trailer full time, we have you covered with insurance for all types of campers. 
Choose the right coverage
Enjoy standard features and choose from optional types of coverage
Available discounts
Discounts are available for:

Bundling your home insurance, auto insurance and trailer insurance policies with us 
Being a retiree 
Maintaining a clean driving experience (no convictions and staying claims-free)
Parking in secure and supervised trailer parks
Having or installing safety devices, such as a burglar alarm

Standard coverage
Aviva's recreational trailer insurance is for:

What's covered*:
Contents 

the trailer usually contains

Detached 

private structures like sheds and decks

Overland 

water 

Sewer 

back-up

Debris 

removal

Extended 

warranty on appliances

Lock 

replacement

Golf carts
Frozen food replacement
Interested party rate protection
Pet injury
All policies include*:

ERSBasic - limited emergency roadside assistance when traveling with a trailer or towing vehicle attached:

towing
battery boost
flat tire service fuel delivery
Optional coverages
Need enhanced trailer insurance coverage? Customize your policy with these add-ons:
To learn more about these options, contact your insurance representative.

Elite emergency roadside service*
Upgrade from ERSBasic to get increased towing coverage, plus trip planning, travel and emergency medical advice, and pet assistance.

Outdoorsy RV-sharing network access*
Get access to the Outdoorsy RV-sharing platform and rent out your RV with insurance coverage included.
Full timers package
For those who travel with their trailer full time, this package includes optional comprehensive Personal Liability coverage.

Premises liability
Helps protect you from legal action related to injury or property damage while you're using your trailer.
RV-sharing insurance*
Market-leading insurance protection for RV owners and renters on Outdoorsy. Renters and owners are covered by Outdoorsy's commercial policy during any delivery and rental period.
Learn more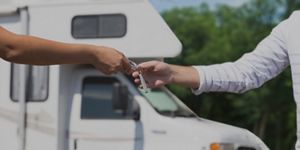 The trailer insurance you need
With Aviva's recreational trailer insurance, you'll get:

Emergency roadside service
Basic emergency roadside assistance is just a phone call away.

Coverage for the recreational trailer lifestyle
Contents and items normally on your campsite are also covered.

Disappearing deductible
Pay no deductible if you're claims-free for five years in a row.

Frequently asked questions
We answer your questions on Aviva's recreational trailer insurance

What is different about Aviva's trailer insurance policy that I wouldn't get with my regular home insurance?
As the country's largest insurer of recreational vehicles, we've been protecting Canadian fun for more than 60 years. 
Our trailer insurance policy is designed for your lifestyle and includes coverage not found in your regular home insurance policy, such as roadside assistance and guaranteed replacement cost coverage.
How much does your policy pay if my trailer has to be replaced after a covered claim?
If you insure your trailer with Guaranteed Replacement Cost coverage, we'll pay you the cost of a brand-new model even if it costs more than the amount stated on your policy.

I live in my trailer year round. Does your trailer insurance policy cover my personal legal liability while I'm away from my trailer?
Comprehensive Personal Liability coverage is available with our policy, covering you when you're on day trips away from the trailer. You can also buy up to $5 million Premises Liability coverage, which helps protect you from legal action if you hurt someone or damage their property while you're using your trailer.

Does your trailer insurance policy cover my belongings inside the trailer and other buildings and equipment around the trailer, or just the trailer itself?
Our policy covers your trailer and its usual contents. We also cover other buildings such as sheds and decks, and equipment commonly used with the trailer.

My trailer is financed. If my trailer has to be replaced after a covered claim and interest rates go up, will I have to pay the extra interest?
Our policies for recreational and park model trailers include Interested Party Rate Protector coverage. This means that any extra costs to refinance the property if interest rates go up are covered.

Insurance brokers, the right choice for you
Get expertise for your insurance needs from coverages, pricing options, claims support and discounts. 
*Availability and pricing vary by province. Terms and conditions apply. Please contact your insurance broker for more information.