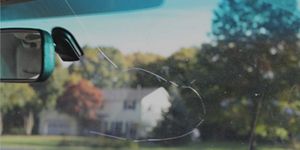 A windshield replacement is only a stone's throw away
Stone chips and glass repair are part of life for a vehicle owner. Windshields get chipped and cracked all the time. Stone chips often occur and we cannot neglect them. In any case, it is better to take the necessary measures as soon as possible.
Even though it may seem like a minor chip, small stone chips can quickly develop into a costly repair job. Chips grow when pressure is placed on your windshield. Pressure can come from a variety of sources, even minor sources of pressure such as taking your car through the car wash or when changes in temperature occur, during winter, for example, when the difference of temperature between outside and inside of the vehicle is high.
And, once they grow into a crack, they can no longer be fixed and your windshield will need to be replaced.
Why is it better to have any chip in your windshield fixed quickly?
Your vehicle will be safer
The function of the windshield is to protect the passengers of a vehicle. A cracked windshield reduces visibility and is a safety hazard. If the glass is cracked it could break and impact your ability to drive safely, or may cause injury. Windshields are designed to withstand pressure up to 180 kg/ cm2, and that a simple crack can considerably weaken it and cause such pressure resistance to drop to 30 kg/cm2.

Did you also know that the windshield plays a key role when the airbag is deployed?
It's cheaper
A claim for the repair of a chip in the windshield is much less expensive than a claim for the complete replacement of a cracked windshield.

If your insurance policy includes All Perils other than Collision and Upset coverage, which is frequently the case, you'll have no deductible to pay to repair your vehicle's windshield and this will have no impact on your insurance premium. So don't be afraid to contact your insurance company if you require a stone chip repair.

On the contrary, the replacement of your windshield will have an impact on your insurance premium and you will have to pay the deductible. Fast action could save you hundreds of dollars.
Repairing a windshield: a simple procedure
Repairing a windshield is done in a few simple steps, generally in less than one hour:
Cleaning the glass to remove glass chips
Removal of the air in the chip
Injection of a transparent liquid resin to fill the crack
Polishing when the resin is dry
And that's it, it's done! Some professionals even offer the services of a mobile team that can come to your home or workplace to repair the windshield.
By being proactive and attending to your stone chip right away, you'll save money, be a safer driver and keep the inconvenience to a small repair job.

Sources:
CAA Quebec – Broker windshield: repair it or replace it?
Speedy Glass – Does your windshield need to be repaired or replaced? Your safety is our concern
The content in this article is for information purposes only and is not intended to be relied upon as professional or expert advice. Aviva and the Aviva logo are trademarks of Aviva plc. and are used under licence by Aviva Canada Inc. and its subsidiary companies.