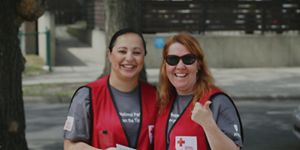 Our wider impact

At Aviva Canada, we believe that being a good Canadian business means being a good citizen, too.
Over the years, we've supported many charities and social causes through our corporate philanthropy. Having an impact on critical issues, creating positive social change and providing opportunities for employee engagement are at the heart of our corporate responsibility strategy and the reason we give back.

Vision and strategy
We aim to be recognized as a leading Canadian insurer focused on positive, sustainable change.
Our strategy centres on four initiatives:
Aviva Community Fund – investing $1 million annually in community initiatives across Canada
Canadian Red Cross – working together to support all Canadians when disaster strikes
Institute for Catastrophic Loss Reduction – taking a leadership role in addressing the challenges of severe weather on our business, customers and communities as a whole
My Community Fund – supporting the causes that matter most to employees by providing more flexibility for them to donate to and volunteer with their charities of choice

Aviva Community Fund
We created the Aviva Community Fund to help create positive change in communities across Canada. Since its inception in 2009, the Aviva Community Fund has awarded $8.5 million to over 280 charities and community groups nationwide. Ideas supported range from programs helping at-risk youth, improving education and protecting the environment to cultural and recreational activities.
This world-class competition which started in Canada is fast becoming a global Aviva initiative. Our UK business launched their version of the Aviva Community Fund in March 2015, to be followed by Hong Kong, Italy and France.
Learn more at AvivaCommunityFund.org.
Visit the Aviva Community Fund's Facebook page at https://www.facebook.com/AvivaCanada/ 
Follow us on Twitter: https://twitter.com/avivacanada

The Canadian Red Cross
For more than 300 years, we've been protecting our customers from the fear of uncertainty and unforeseen events. Our partnership with the Red Cross is another way we're supporting Canadians and upholding our commitment to truly be there for people in their time of need.
Community Health and Wellness
In 2016, we became the first national corporate partner of the Canadian Red Cross Community Health and Wellness program, committing $750,000 over three years. People 65 years of age and older are Canada's fastest growing age group and Canadians are living longer with chronic illness. There's a growing need for quality health care services, delivered at home rather than in hospitals or long-term care facilities.Together, we're meeting the growing health care needs of Canadians and helping them live longer, healthier lives. Aviva's contribution to the partnership will help:
Deliver improved community health services to over 190,000 clients across Canada such as transportation, nutritional services (eg Meals on Wheels), and social inclusion programs.
Purchase over 5,000 pieces of health equipment, such as wheelchairs and walkers, with the potential to help up to 20,000 Canadians over three years who are living with injury or illness.  
Train thousands of staff and volunteers to deliver high quality community health care.
Ready When the Time Comes
As one of the leading insurers in Canada, we've seen the impact that severe weather and disasters have on our customers and communities. That's why we were the first insurance company to join as a national corporate partner of the Canadian Red Cross Ready When the Time Comes program in 2015.
Through this program, we're training our employees and brokers to mobilize when large-scale disasters strike in Canada. Our volunteers help by greeting and comforting those affected by disasters, distributing blankets, comfort kits and meal vouchers, and helping to run emergency shelters and reception centres.
Read more about the difference we're making with the Red Cross in our 2016 Public Accountability Statement.
To learn more about the Canadian Red Cross, visit www.redcross.ca.
My Community Fund
Our employees are most generous and play a significant role in our total community investment – volunteering thousands of hours in their local communities and donating hundreds of thousands of dollars to their favourite charities each year.
We created My Community Fund to support our employees and what matters most to them. Through this program, Aviva Canada corporately matches employees' personal donations and gives employees time off work to volunteer.

Environment
In 2006, Aviva became the first carbon neutral insurer globally. Each year we offset any remaining emissions against carbon credits gained from projects in countries where we operate.
We've made a strong commitment to reduce our carbon footprint by continuing to pursue opportunities to maximize efficiency and minimize impact through our business operations in the areas of:
Energy
Water
Waste
Travel
Procurement
Communication
Reports and Publications
Public Accountability Statement
Global Corporate Responsibility Report