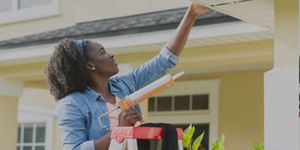 Spring home maintenance checklist
Spring - you can almost smell it. Take advantage of the longer, brighter days and get your home in tip-top shape for summer. It is a good idea to have a maintenance checklist and consider adding the following:
Remove debris from gutters and inspect your roof for any loose shingles or damage so you can line up repairs in advance.

Check for water run-off around your home's foundation. Pooling water can cause erosion; use compacted soil to fill in any low spots that have been washed out.

Examine your lawn for soggy spots as well. Improper drainage can wreak havoc on structures below ground.

In some provinces, winter can be harsh on even the strongest building materials. Inspect your home's exterior siding for nicks or cracks and patch up any holes or cracks before they get worse.

Clear your yard of any loose debris and dead plants and trim overgrown trees and bushes.

Spring means critters - replace or repair window screens and inspect shutters and windows for leakage and cracking.

Check fire and carbon monoxide alarms.

Inspect air intakes, air conditioning systems, exhaust fans and change filters as needed.
The work doesn't stop there, you could also keep a maintenance log of your home's key components to better understand its condition, plan maintenance and schedule work all year round. For an example of a maintenance log, click here.
Sources:
Make it right - Spring home maintenance checklist
HGTV - 10 home maintenance tips for spring pictures
Faristeam - 6 spring home maintenance tips


The content in this article is for information purposes only and is not intended to be relied upon as professional or expert advice. Aviva and the Aviva logo are trademarks of Aviva plc. and are used under licence by Aviva Canada Inc. and its subsidiary companies.