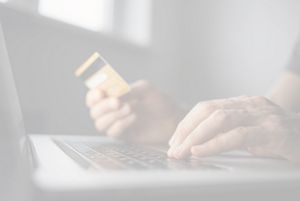 Beware of fake investment bond offers
Watch out for emails or websites posing as Aviva
With interest rates currently so low, people are on the lookout for a better return on their money. So, fraudsters are using bonds — popular savings and investment products — to promote too-good-to-be-true deals, often with supposedly high returns, to lure in their victims. 
Fraudsters are offering often huge returns on fake bonds
We've had several reports that criminals have been creating websites for these products which, at first glance, look genuine. 
They've also set up fake comparison-style sites to get your information and make themselves look legitimate when they contact you. As you've given your details voluntarily on these sites in the first place, you don't suspect a thing. 
Criminals are also buying advertisements on search engines, such as Google and Bing, which link to their fake sites. These ads appear at the very top of the results page when you search 'best rates' and 'best bonds', so they instantly catch your attention. 
These scammers are tech savvy. They know exactly how to make things look real. They often include real, well-known company names when setting up fake sites, knowing people are more likely to visit them if they've heard of the brand.
Once you visit these websites, they may ask for your personal — and possibly financial — information. Some of these fraudsters have even asked people to send a photograph of themselves holding their ID.  They may encourage you to set up bonds with them, which turn out to be fake. They may also ask you to create an online account on a fake portal to manage your investment — this allows them to steal your password so they can try to access your accounts elsewhere.
Unfortunately, because you think you've gone onto a real website, you're likely to hand your information over before sending money on to the fraudsters. Unless it's a web domain you recognize and know to be safe, don't open it. 
Some of these criminals have then been getting back in contact with their victims, posing as lawyers, financial advisers, insurance companies etc., and claiming they can recover their lost money. This is known as a recovery scam, designed to extort more money from victims.
Watch how you're being asked to make payments
Another thing to be wary of is how you're being asked to pay for something. You should also be suspicious if someone asks you to:
pay a person instead of a business — when you're making an online payment, you may be asked if it's going to a person or a business. A scammer might ask you to say you're paying a person or that it's a 'payment of services'. A legitimate company would never ask you to do this.
pay a business — whose name differs from the business you think you are dealing with – scammers will often ask you to transfer money into an account that has a completely different entity name.
pay in instalments — instead of making a lump sum payment, you might be asked to pay in smaller chunks. A scammer might do this to avoid drawing attention to large transactions.
let them talk you through the payment — a scammer might insist on staying on the phone to you as you're making a payment online to make sure the payment reaches them.
use an escrow account — if someone asks you to make a payment into an escrow account (in other words, a holding account), rather than paying them directly, it might be a scam. Think twice before making the transfer.
An increasing trend has found fraudsters requesting Bitcoin payments because it offers anonymity- Aviva Canada does not accept Bitcoin payments.
Some sites to be wary of 
With these sorts of scams, fraudsters tend to use well-known brand names on the website because they know, this way, people are more likely to trust the site. 
Here are some examples of websites which have tried to contact customers claiming to be Aviva, even though they have no links to us whatsoever. 

aviva-ca.com
wm-aviva.com
avivacanadamgt.com
aviva-2021.com
aviva-ontario.com
avivabonds.com
avivafixedsavings.com 
avivainvestorsholdings.com
avivaplcbonds.com
avivauk.com
Although we know these emails haven't been sent by us — these aren't our email addresses — they may appear genuine. That's why it's important you do a bit of investigating yourself, to make sure everything checks out.

Warning signs that a site might be fake
These are some signs you can look out for to help you spot fake websites:
Images on the website — are the images and logos that appear blurry or of low quality?
Text on the website — is the website poorly written and does it include spelling or grammatical errors?
Missing contact details — is the website missing contact details, such as an email address or phone number?
Broken links — are there links to other parts of the website which, when clicked on, take you to a blank page or don't take you anywhere at all?
Too good to be true — are there offers advertised on the website which look too good to be true. Remember, with interest rates at an all-time low, you should be suspicious of investments guaranteeing such high returns.
These aren't all the signs, but they show the trends being used that you need to be wary of.
Do your own research 
If you see or hear about a bond opportunity from any companies, comparison sites, or even friends and family, it's important to do your own digging. 
Check the company's official website and speak to them directly. If the person who originally contacted you isn't available, speak to someone else in the investment department to confirm the deal you've been told about. 
You should also take a close look at the website's disclaimers and terms and conditions. It may seem like a lot of effort, but better to be safe than sorry.
We're on the case 
We know what fraudsters are doing and we're working hard to combat these criminals. We've already identified 25+ sites which we've taken action against — or are in the process of doing.  
Unfortunately, as we take action, the fraudsters very quickly set up new sites. So it's important that you stay vigilant and know what to look out for. For more on how to protect your money, see how to avoid being scammed.

If you come across a website which includes 'Aviva' but suspect something's not quite right, it's best to trust your gut. You can report it to us and we'll investigate it right away. 
Contacted by a fraudster or fallen victim to a scam?
Click here to report to us right away. We'll take it from here and let you know what you need to do to stay safe.
Real-life examples from investment fraudsters posing as Aviva Canada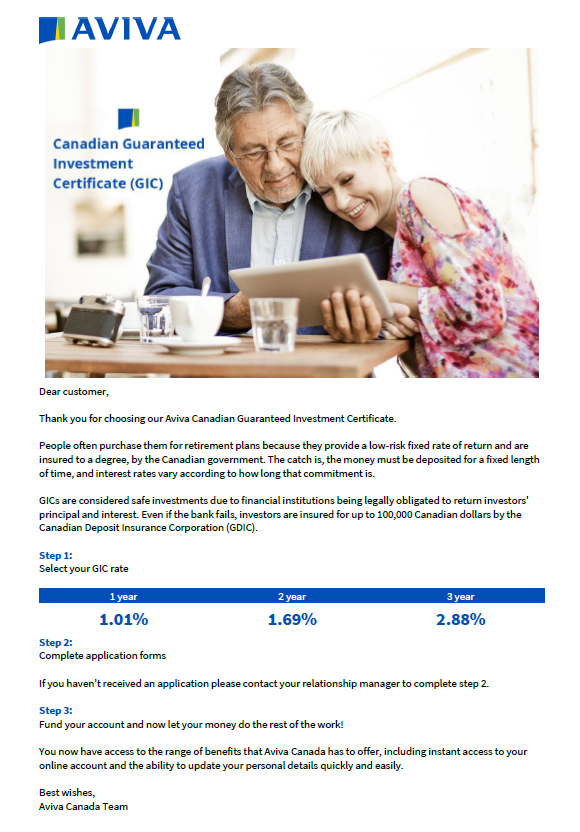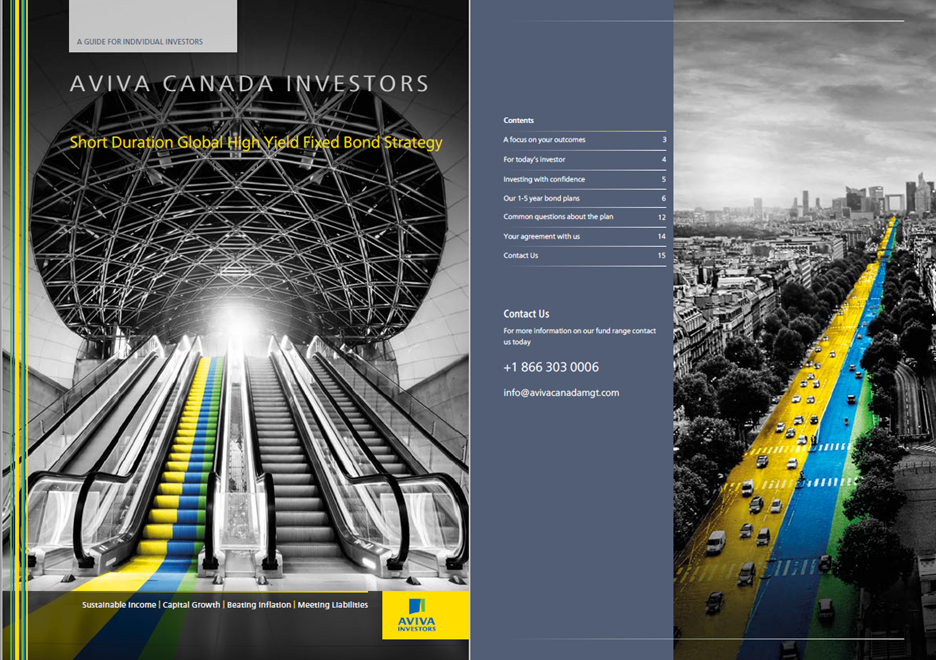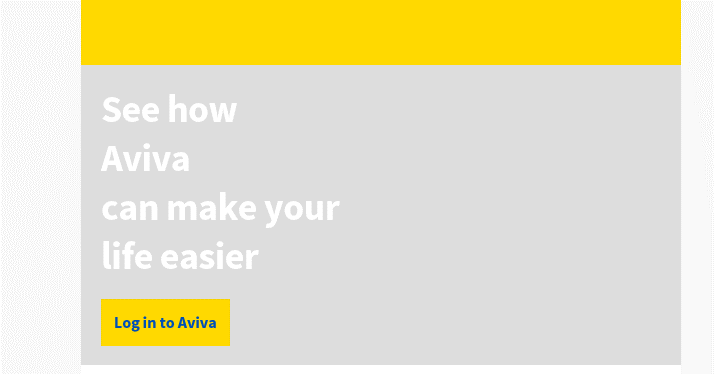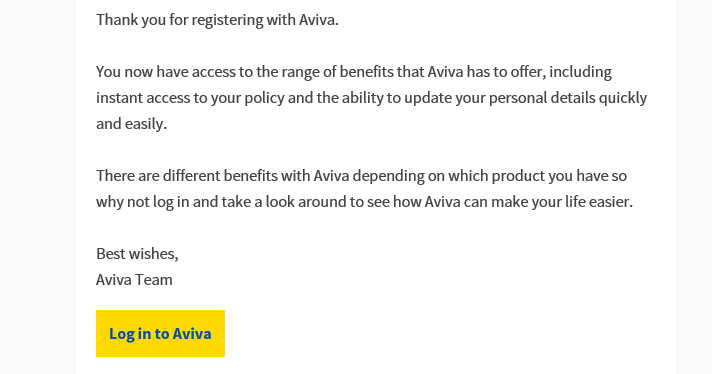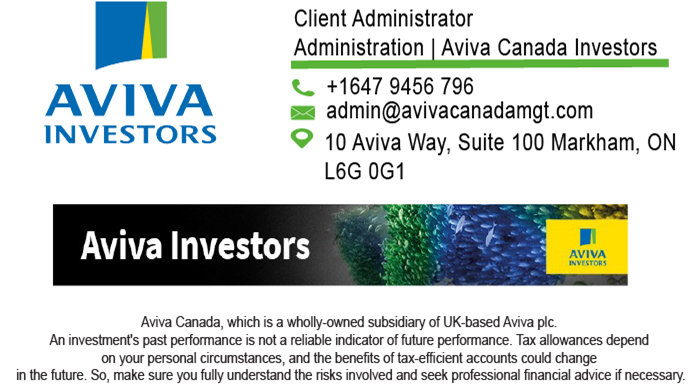 Disclaimer: It is your responsibility to determine if this incident should also be reported to your financial institutions and/or local police authorities
Contacted by a fraudster or fallen victim to a scam?
Report this to us right away. We'll take it from here and let you know what you need to do to stay safe.