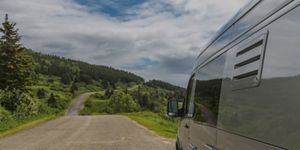 Help your customers hit the road with comprehensive RV protection for personal use – or for renting their vacation "home".
Are your customers on the road again? Why stay home when they've got a vacation-ready vehicle sitting in their driveway? And with Aviva's new partnership with Outdoorsy*, the largest, most-trusted RV rental marketplace, owners can get sharing coverage so the good times continue to roll even when they're not in their RV.
Aviva's RV insurance policy includes coverage not found in a standard auto insurance policy, such as roadside assistance, guaranteed replacement cost coverage and coverage for contents.

RVs covered
Class A motor homes
Class B motor homes
Class C motor homes

Included in all policies*
Loss or damage to the motor home caused by fire, lightning, windstorm and earthquake
Detached private structures, such as a shed or deck
Contents of motor home
ERSBasic limited emergency roadside assistance

Towing
Battery boost
Flat tire service
Fuel delivery

Emergency vacation expense coverage
Appliance warranty extension

Optional coverage enhancements*
Upgrade to ERSElite

Up to 500 km mechanical breakdown towing for trailer and towing vehicle
Trip planning
Travel and travel medical assistance
Concierge service
Pet assistance
Trip interruption

Outdoorsy RV-sharing network access – renters and owners are covered by Outdoorsy's commercial policy during any delivery and rental period
Personal effects coverage

Discounts
Bundling home/auto/motor home
Being a member of an RV club
Having monitored satellite tracking of RV
Installing or having an anti-theft device

Learn more
Visit LeisureQuote to quote, bind and request changes and endorsements for this product.
Get more details about this product in the Resource Centre.
*Availability and pricing vary by province. Terms and conditions apply.