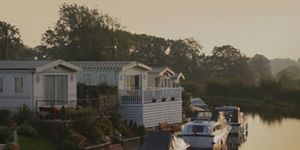 Tiny homes, dream homes, seasonal homes and rental homes can all be covered by Aviva's Manufactured Homes Product.

Aviva's Manufactured Homes product was designed to address trends like downsizing, housing affordability issues and the demand for tiny homes. Whether they live in a manufactured home year-round, seasonally or rent it out, here's what your customers need to know.


Manufactured homes covered
Modular homes
Mini or tiny homes
Mobile homes
Double-wide homes


Included in all policies
Coverage for the home
Belongings in the home
Detached buildings on the property, such as a garden shed
Personal liability, up to $1 million
Living expenses while home is being repaired or rebuilt


Optional coverage enhancements
Guaranteed Replacement Cost for newer homes; for homes up to 5 years old or newer that have been renovated choose to get the full cost to rebuild up to the policy limit
Liability up to $2 million
Increased contents


Discounts
Being claims free
Being mortgage free
Having safety devices installed, such as a burglar alarm
Owning a factory-built double-wide home
Having a newer home


Learn more
Visit LeisureQuote to quote, bind and request changes and endorsements for this product.
Get more details about this product in the Resource Centre.