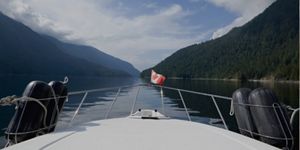 Whether your customers are sailing, doing watersports or enjoying luxury cruising, Aviva's coverage is designed for life on the water.

Our boat insurance is ideal for all types of boats, including sail, jet, sport, fishing, houseboat, cruiser and cuddy and pontoon and deck. NautiMax, Aviva's boat insurance program offers customized coverage at competitive rates for all types of boats, whether in or out of the water.
As a broker, you can expect:
Instant online quoting and binding with broker authority to $200,000
Dedicated boat underwriters
Agency and direct bill options, including online banking, credit card, multi-pay and monthly payment options
NautiMax volume to count towards CPC calculation
We make transferring simple. Just send us the current policy declarations page and we'll do the work!
Boats covered
Sail
Jet
Sport
Fishing
Cruiser and cuddy
Houseboats
Pontoon and deck
Runabout
Personal watercraft


Your choice of coverage
Agreed value/replacement cost
For a covered claim, if your boat (up to 15 years old) is a write-off, we'll pay you the amount stated on your policy.

Actual Cash Value
For a covered claim, we'll pay you the actual cash value of your boat at the time of loss.

Liability only
Up to $2 million that covers your legal liability to others. Any damage to your boat is not covered.
 
Included in all policies
Broad navigation territory coverage in Canada and the upper United States and can be extended to the southern states, Caribbean and Bahamas

Market-leading accident benefits and medical coverage

Newly acquired watercraft coverage

Coverage to operate other watercraft (Liability and physical damage)

Personal effects, navigation equipment
Pollution and wreck removal
Aviva Marine Assistance Program


Boat towing – 24-7 referral service for breakdowns anywhere in Canada or the U.S.
Trip planning - Detailed 2-D or 3-D chart navigation, port plans, marine points of interest and more
Boat value/resale assistance
Health and legal assistance – 24/7 telephone advice from healthcare professionals and lawyers anywhere in Canada and the US

Concierge services for questions about marinas, boat ramps, repair services, storage, licenses and permits
Optional coverage enhancements
Guaranteed replacement cost - upgrade from agreed value/replacement cost and we'll replace it with a brand new model, even if it costs more.
Increased personal effects
Increased loss of use/emergency expense - increase your coverage amount for the cost of a replacement boat, rental car, taxi, or public transit or hotel while your boat is being repaired
Dingy and auxiliary engine(s)
Discounts
Claims-free
Accredited nautical training
Multi-line discount
Dry-dock storage
And more

Learn more
Visit LeisureQuote to quote, bind and request changes and endorsements for this product. Also, be sure to check out all the consumer marketing material available for download or for print on Aviva Print Solutions. More details about this product can be found in the Resource Centre.