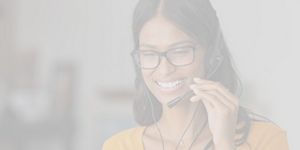 High praise for Aviva Lifestyle claims adjusters
Claims accolades shine a spotlight on the excellence that happens at Aviva every day
As an insurance broker, you're likely familiar with what the claims process looks like. But did you know that Aviva has 28 adjusters who handle Lifestyle claims, plus two specialists who take on complex files? And that every one of them strives for absolute greatness?
Claims Manager Jessica Ricciuto says adjusters don't just aim for excellence – they usually achieve it. "We receive some really amazing comments from our customers, which brings the meaning of our brand to life. On our claim surveys, we get a lot of: 'Great customer experience; adjuster was very responsive and quick; I'm happy with the experience; very professional and courteous; my adjuster actually cared and took care of me and my claim.'"
Accolades that inspire
Ricciuto and her team collect customer accolades to shine a spotlight on claims excellence. Here are a couple of recent examples:
One of Laura-May Whittingham's customers raved about the service she provided, writing, "We are just finishing a claim for our 5th wheel that got totaled in a windstorm this past January. Laura made the whole process from start to finish for us stress-free. I believe she went above and beyond in helping us. At no time did she ever not answer any of our questions or concerns we may have had. You truly have an exceptional employee."
While Whittingham is pleased with the praise, she maintains that providing that kind of service is part of being a good employee and a decent person. "… It's important to remember there's a living, breathing human being on the other end of the phone. Treat them as you would treat yourself."
Claims adjuster Tammy Handley recently earned an accolade from a broker whose customer needed help with a claim after a large tree fell on his 5th wheel trailer. The broker wrote:
"I called Tammy a few weeks back to get a handle on the [claims] situation and also explain that this is a longtime client of ours. She genuinely appreciated my call and I knew from our conversation then that she truly cares about clients being taken care of and satisfied while keeping the company's best interest in front of her at the same time. She dealt with the client in an awesome and professional way and made him feel special and that he mattered… This claim had a couple of 'twists and turns' but her experience and professionalism were evident. The customer shared with our team how happy he was with Tammy… As a brokerage, the only real product we sell is 'claims satisfaction' so thanks for allowing us to always feel comfortable when we know it's an Aviva claim!"
Due to the intricacies of custom decals on the trailer, Handley arranged to have a repair person go to the trailer park to do the repairs on site, all the while putting the customer at ease. For her, it's all in a day's work. "I assured [the customer] I understood how he felt as I too am a long-time trailer owner," she said.
"The insured found someone he trusted to come to the park and complete the repairs and repainting of the decals. We cash settled with the insured and sent all the paperwork and cheque to his broker's office for him. He signed the POL (Proof of Loss) and obtained his cheque in one visit."
On another recent claim, the responsive customer service of claims adjustor Debbie McGowan and our collector car coverage thrilled a knowledgeable classic car customer. As a car enthusiast who has travelled around the world to work on and race Porsche vehicles and who also writes for their publications, the customer let McGowan know that no matter the outcome of the claim, it would be written about in the magazine to ensure classic car owners knows how Aviva treats our clientele.
"I had to be sure I was prepared during every conversation we had… By the time his claim was finalized, we had come up with an offer that satisfied him. He was honestly great to deal with – each and every call we ended up laughing," said McGowan.
The customer clearly felt the same way, writing, "I really enjoyed talking with you, from almost crying to being happy with the final outcome, it was a roller coaster ride for the 10-15 minute call. I would like to put on record how quickly, professional and helpful the total experience you provided. It will not go unnoticed."
Ricciuto says accolades like these help verify that the claims team is not just doing their job but making a difference in their professions.
"It's the best feeling because I know our teams are living our values of care, commitment, community and confidence. Believing in our brand is providing the best level of customer service and that 'white glove' service that you can expect to receive in our specialty claims handling department."
If you have any questions, please contact your Broker Operations Specialist or your Broker Relationship Manager.
The content in this article is for information purposes only and is not intended to be relied upon as professional or expert advice. For specific information about a product, or exact terms, conditions, coverage definitions, exclusions and limitations, please refer to the customer's insurance policy wording or the latest underwriting manual on avivapartner.ca Aviva and the Aviva logo are trademarks used under licence by the licensor.