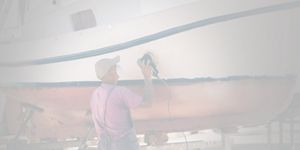 Five maintenance jobs your NauticLife customers should do every year.
As the summer draws to a gradual close, it's a good time for your boating customers to consider the end-of-season maintenance tasks they should do before they lay up their boat for winter.

We consulted Shawn Mckone, Senior Manager in Specialty Claims at Aviva, to provide some best practices that'll help your customers avoid any problems because they missed a simple but important part of caring for their boat.
Note: there's no uniform way to maintain all watercraft. Customers should follow the manufacturer's guidance for their specific vessel and turn to their local marina if they need more custom advice.
1. Winterize the engine
One of the most important end-of-season requirements in our Canadian climate is preparing a boat's engine for the cold. If water is left in the engine, it will expand as it freezes, cracking the engine. Mckone says a customer could be looking at a minimum of $10,000 to repair or replace a cracked engine. And Aviva's NauticLife policy does not cover this type of damage.
"This is the most common type of damage we see in boating claims and the worst part is that it's totally preventable. It's prudent for a boat owner to take the correct action before the temperatures drop," he said.
For most boats, it's as simple as ensuring water is drained out of the engine, then injecting antifreeze to dilute any remaining water to keep it from freezing. The amount of antifreeze may depend on the size and type of engine.
2. Protect the battery
If your customer wants to start up their engine and hit the water next season, they've got to make sure their battery is charged and ready to go. The easiest way to ensure a healthy battery is to keep it charged over the winter.
"Generally, a marine battery shouldn't be hooked up to the vessel over the winter when it's not in use. Just like a car battery, it should be charged from time to time to ensure it's ready to go in the spring. A battery's life is longer if it's regularly charged," said Mckone.
He recommends removing the battery and storing it lying flat the right way up in a cool, dry place over the winter. Customers can also hook it up to a trickle charger which delivers a slow charge to the battery over time to further prevent problems.
3. Inspect the bellows
Mckone says one of the most common causes of claims that involve a partial or full submersion of the boat is the erosion of small but important rubber seals on the boat.
"The bellows are rubber seals that keep water out of the stern drive motor, through a hole out the back of the boat. When the seals around them start to wear out, water will get in," he said.
It's important to take a few minutes every year to visually inspect these rubber seals to ensure they are not deteriorating.
"Like anything rubber, the seals will break down over time. If they are starting to flake or look brittle or worn, it's likely time to have them replaced," said Mckone.
"Usually, what leads to claims from this problem is as simple as someone missing it. It won't become a problem unless they're not checked for years. The end of the season is a good time to take a look."
4. Complete all regularly scheduled boat maintenance
Before storing a boat for the winter, it's important to take care of engine and systems maintenance, including:
Changing the oil
Changing filters
Lubricating any grease points, e.g. hinges
Cleaning the interior and exterior with fresh water
"When you maintain your boat, you're protecting critical systems and prolonging the lifespan of all materials, from the engine to the upholstery to seals," said Mckone.
"Typically, any maintenance failures are not covered by insurance so it's a good practice to make sure the boat is in good shape before it goes away for the winter."
5. Make sure boats are laid up out of water by November 30th
Under our NauticLife policy, boats must be stored out of the water from Nov. 30 to April 1.
"Unless we've granted permission for the boat to be out of the water or it's in an area where it is permitted, there is no coverage for any damage that occurs while a boat is in the water during the layup period (between December 1st and March 31st)," said Mckone.
Boats should be properly covered or in a storage facility to protect them from the winter elements, including ice and snow or even unwanted critters making the vessel their home.

While most boaters won't want to think about winter woes just yet, it's great customer service to offer these five reminders to consider before their summer of cruising comes to an end.
If you have any questions, please contact your Broker Operations Specialist or your Broker Relationship Manager.
Aviva and the Aviva logo are trademarks used under license from the licensor. Insurance products are underwritten by insurers in the Aviva Canada group of insurance companies, which are subsidiaries of Aviva Canada Inc. The content in this article is for information purposes only and is not intended to be relied upon as professional or expert advice. For specific information about a product, or exact terms, conditions, coverage definitions, exclusions and limitations, please refer to the customer's insurance policy wording or the latest underwriting manual on avivapartner.ca. Product availability varies by province.