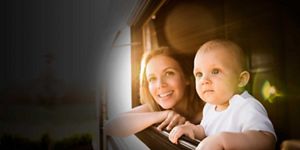 How your customers can protect their cottage, RV and boat from inflation
Find out which insurance products will help protect your customers from the effects of inflation. 
If your customers think life in Canada seems a lot more expensive these days, they're not mistaken. In February, Statistics Canada reported a 5.7% rise in the consumer price index (CPI) from last year, the highest level of inflationary growth since 1991.

In the insurance world, these rising costs affect how much is paid out in a claim. Aviva has some products that are designed to mitigate the effects of inflation in your customer's favourite fun assets.
Three coverages that will protect cottage claims from inflation
If a fire or other covered disaster damages their cottage, the cost of rebuilding it will be 13.2% higher than it was last year, according to Statistics Canada. This is due in large part to factors like a 32.8% increase in softwood lumber prices,
Fortunately, Aviva offers a couple of optional endorsements they can purchase for their cottage policy and an Inflation Guard to help keep payouts fair.
Guaranteed Replacement Cost
When they have this endorsement, they don't need to worry about what it costs to rebuild their cottage in the event of a total loss.
"A Guaranteed Replacement Cost endorsement is the gold standard of protecting yourself in a high-inflation environment. It ensures that you have complete coverage on your cottage, with no limits on the dwelling. There's a lot of peace of mind in knowing that you don't have to worry about the cost of rebuilding," said Shawn Mckone, Senior Manager in Aviva's Lifestyle Department.
Single Limit of Insurance
This endorsement allows your customers to apply funds from one type of coverage to another section of the policy when they reach the limit.
For example, if their cottage's detached garage burns down and they only use 50% of their contents coverage limit, they can apply the rest of the contents coverage to the cost of rebuilding if higher prices have exhausted their policy limit.
It is important to note that not all cottages or manufactured homes are eligible for the Guaranteed Replacement Cost and Single Limit of Insurance endorsements.
Inflation Guard
Most of Aviva's cottage and manufactured homes policies have an Inflation Guard clause built in at no extra cost.
"If you suffer a loss six months into your policy term, this clause will protect you from any changes due to inflation within that time. It's a little bit of extra coverage to provide protection against inflation for a short period of time," said Mckone.
Inflation protection for Motorhomes and trailers
RV owners have been among the most affected by inflation over the last couple of years.
"We're dealing with a massive inventory shortage in the RV space. We recently wrote off a 2021 unit and paid to replace it with a 2022 model that was a 45% increase in cost from the year before," said Mckone.
Here are two products to explore to help protect your customer's motorhome or trailer from inflated costs.
Guaranteed Replacement Cost endorsement
For watercraft, towed or stationary trailers there is an option to purchase a Guaranteed Replacement cost endorsement to add to a policy. It works the same as it does for cottages – protecting your customers from the increasingly higher costs associated with replacing a trailer after a total loss.
"The extreme uptick in pricing is why Guaranteed Replacement Cost is essential, if you can get it," said Mckone.
Actual Cash Value

This product, found in standard auto policies, applies to motorhomes and trailers, too. If your customer's RV is an older model, Mckone recommends ensuring they have a policy limit that protects the used value of it. "If it's gone up 30% in price, they can bump up their limit to ensure they get paid the market value of it in case of a total loss."
"A big issue for motorhome and trailer owners is that there are not enough new vehicles due to supply shortages. This drives up prices for both new and used markets," said Mckone.
"Actual Cash Value means that claims are settled based on what they're worth at the time they need to be replaced. So when the price of used vehicles go up, payouts go up," said Mckone.
Protect your watercraft with the right Agreed Value limit
Have you shopped for a new boat lately? The shortage of stock for watercraft rivals the one for regular vehicles and RVs. And that means used boat prices are skyrocketing.
"Even salvage is expensive now because there's such a high resale value that a lot more people are interested in damaged boats and units because it's profitable to repair and sell them at current market rates," said Mckone.
Aviva's main watercraft policy includes an Agreed Value Limit that pays out a pre-determined amount if there's a total loss. This is not automatically adjusted when inflation is higher.
"When you see large increases in value, we highly recommend that brokers and customers review these agreed value limits together to be sure boats are adequately insured for what they're worth," said Mckone.
There's no telling whether the CPI will continue to go up or whether it will be corrected over the next several months. That's why it's important that you talk to your customers about insurance products that can help them protect their favourite summertime fun from high prices.
If you have any questions, please contact your Broker Operations Specialist or your Broker Relationship Manager.
The content in this article is for information purposes only and is not intended to be relied upon as professional or expert advice. For specific information about a product, or exact terms, conditions, coverage definitions, exclusions and limitations, please refer to the customer's insurance policy wording or the latest underwriting manual on avivapartner.ca Aviva and the Aviva logo are trademarks used under licence by the licensor. Product availability varies by province.