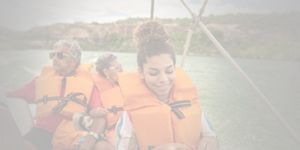 Product spotlight: Watercraft
Did you know that most boaters who die on the water each year in Canada are not wearing lifejackets, or are wearing them improperly?

Boaters are required by law to have a lifejacket or PFD (personal flotation device) on board for each person on the watercraft.
Former editor of the Newfoundland Sportsman Gord Follett noted the following in a column for CBC.ca.
"It's nothing short of ludicrous that in 2022 it is still not mandatory to wear a lifejacket," he wrote.
"… Every year, more than 500 people drown across the country, with 166 of them, on average, boating-related. The Canadian Red Cross says, 'wearing a life-jacket could eliminate up to 90 percent of all boating-related drownings.'"

It's a good reminder to boaters of all stripes to not only own Canadian-approved flotation devices with a label that shows they are approved by Transport Canada, the Canadian Coast Guard or Fisheries and Oceans Canada—but also to insist that all passengers wear them when they're on board.

If the boat hits a rogue wave and knocks people into the water, or a passenger slips and hits their head, their lifejackets will only help save their lives if they're wearing them. Visit Canada.ca for information on choosing a personal floatation device.
Coverage you can count on
Aviva's NauticLife watercraft insurance offers protection for all kinds of pleasure craft, from fishing boats to yachts. Here are some of the available coverage options:
Standard coverage
Sail
Jet
Sport
Fishing
Cruiser
Houseboats
Pontoon and deck
Runabout
Personal watercraft
Included in all policies
Agreed value/replacement cost for watercraft up to 15 years
Actual cash value for watercraft 15 years of age and older (we will offer RC coverage on these vessels, upon receipt of an acceptable Marine Survey and/or photographs)
Fire, explosion, theft and vandalism
Lightning, hail and windstorm damage
Impact or collision
Vermin damage
Additional coverages
Medical/death/funeral benefit
Newly acquired watercraft
Marine assistance Program
Emergency towing and loss of use
Navigation equipment
Pollution and wreck removal
Personal effects including sporting equipment
Search and rescue and fire department charges
Operating other boats

Optional enhancements
Guaranteed replacement coverage – available on new boats for up to three years, provides protection against future prices and inflation in the event of a total loss
Incidental use: additional liability coverage for specific purposes including charity or volunteer work and hosting larger group of guests aboard the vessel.
Increased loss of use: increase the policy's coverage for a temporary replacement in the event of an insured loss for another boat, rental car, taxi, or public transit while the boat is being repaired after a covered claim
Navigation Extension Coverages – Navigational extensions can be purchased to provide coverage for a broader area of operation, for example travelling into many areas of the Caribbean. Multiple options are available
Other

Dinghy and auxiliary engineers
Downriggers
Claims forgiveness
Deductible waiver
Discounts (percentage varies by Province)
Watercraft and car/home
Dry dock
Claims free
Training
Learn more
Visit LifestyleQuote to quote, bind and request changes and endorsements for this product.
Get more details about this product in the Lifestyle Resource Centre on AvivaPartner.
Aviva and the Aviva logo are trademarks used under license from the licensor. Insurance products are underwritten by insurers in the Aviva Canada group of insurance companies, which are subsidiaries of Aviva Canada Inc. The content in this article is for information purposes only and is not intended to be relied upon as professional or expert advice. For specific information about a product, or exact terms, conditions, coverage definitions, exclusions and limitations, please refer to the customer's insurance policy wording or the latest underwriting manual on avivapartner.ca. Product availability varies by province.